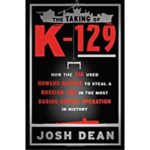 The Taking of K-129: How the CIA Used Howard Hughes to Steal a Russian Sub in the Most Daring Covert Operation in History
By Josh Dean,  Dutton, New York, (2017).
Review by Capt. William H. Johnson USN (Ret.)
As of 2018, many of the details of Project AZORIAN — the recovery of part of a sunken, armed Soviet GOLF-class SSB in the early 1970s — remain concealed behind proverbial walls of secrecy, with only parts of that complex and audacious undertaking available for public consumption. There have been several books written on this particular topic, beginning in 1978 with Roy Varner and Wayne Collier's A Matter of Risk: The Incredible Inside Story of the CIA's Hughes Glomar Explorer Mission to Raise a Russian Submarine (Random House, 1978).  To date, the most authoritative is likely the 2010 version, and accompanying film, by Norman Polmar and Michael White (Project Azorian, Naval Institute Press). The latter offers a comprehensive and coherent presentation of the available facts regarding the 45-year-old undertaking, and as little has been released in the intervening eight years, that narrative has likely been shared as well as it can be to this point.
Josh Dean, a freelance journalist by trade, with a range of credits that includes Outside magazine and Rolling Stone, has opted to leap once more unto that breach (apologies to Shakespeare) with yet another perspective on the story. Dean's book, however, does not compete with the earlier volumes as much as it complements them. The author recounts, in some sixty illustrative vignettes couched as brief chapters, a fresh examination of the acknowledged project chronology, accenting the story with dialog culled from interviews and conversations with actual participants.
In concise, 2-5 page mini-essays, Dean describes the over-arching scenario, in which the nuclear-armed, Soviet SSB mysteriously and abruptly sank in approximately 20,000 feet of Pacific Ocean, and the subsequent photographic reconnaissance performed by USS Halibut (SSGN 587) which confirmed the Golf's location. He also translates the technically complex, relentless, and seemingly-endless engineering challenges that sprouted as the CIA considered the possibility of actually building a ship to recover the submarine. Using conversations recalled by some of the participants, the author vividly illustrates the debates surrounding a plausible cover story about deep ocean mining, a deception so carefully crafted that it required active participation by several commercial entities, including (Howard) Hughes' Tool division, in order to maintain credible integrity. Dean's use of dialogue is rarely intrusive and instead allows readers to envision the pervasive, often paralyzing, tension that surrounded this operation.
Dean also examines some of the heretofore undiscussed details surrounding Azorian, such as the need for the United States' government to intervene with tax officials from California. The deception story and supporting detail was so complete that the state of California sought to tax the presumed proceeds from Glomar Explorer's (the recovery vessel) mining operations. That levy necessitated federal intervention with state taxation authorities, along with a carefully worded explanation as to why the taxes were unfounded. Dean also puts a more personal face on the at-sea funeral for the six recovered Soviet crewmembers and on the subsequent disposition of their radioactively contaminated remains.
In consciously omitting the footnoting common to academic accounts of the past, Dean presumes his audience possesses a basic level of awareness of the historical context of submarine operations within the Cold War in the late 1960s, and the absence of formalized citations for conversations makes the various exchanges relatively unusable for future scholarship.  Those, however, are minor criticisms within an otherwise tremendous, if informal, contribution to the historiography of Cold War submarine operations.  Dean's narrative skills, clearly honed in writing for more popular, widely distributed publications, help him succeed in his goal of improving access for a wider audience than might otherwise choose a book on a decades-old maritime operation.
Captain Johnson, a retired Naval Flight Officer, currently teaching unmanned aviation as an adjunct assistant professor at several colleges. He has written for Proceedings, Canadian Military History, and has presented several technical papers on unmanned system technology.