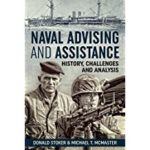 Naval Advising and Assistance: History, Challenges, and Analysis
Edited by Donald Stoker and Michael T. McMaster
Helion & Company Limited (2017)
Reviewed by Kenneth J. Hagan, Ph.D.
Ever since 1890, when Captain A.T. Mahan published his game-changing book, The Influence of Sea Power upon History, 1660-1783, the strategic focus of the U.S. Navy has been riveted upon major wars, struggles for national survival decided in large measure by battles between opposing fleets of capital ships. This nearly exclusive concentration has prevailed despite the frequency of limited wars, historic American "gunboat diplomacy," U.S. naval advising in distant countries, and naval-military interventions in smaller countries deemed in need of forced guidance.
Two accomplished former professors of the Naval War College program at the Naval Postgraduate School, Donald Stoker and Michael T. McMaster, are acutely aware of this skewed focus, and they strive to create a much-needed corrective. Their book demonstrates that since 1815 individuals of some navies have actively advised leaders of other, usually lesser, navies about the structure and strategy of their naval forces. This scholarly undertaking is refreshingly stimulating, but Stoker's introduction underscores how daunting is the task of tracing in detail the history of any one nation's naval advising and assistance.
His introduction provides a multitude of examples from many countries over the course of more than a century. But the comment about each case is necessarily limited to a few descriptive sentences at most, although backed by remarkably extensive bibliographical references. Stoker sagely cautions the unsatiated reader: "the literature on naval advising is particularly undeveloped. There is a great need for more research in this field, and ample room for others to enter it." (p. 19) His lament is anticipated in the foreword by Professor John B. Hattendorf, who writes that naval advising "is a rarely examined subject" despite its widespread international practice. (p. xiii)
Picking up the gauntlet, the authors in this book examine twelve case studies of naval advising. For example, Jorge Ortiz-Sotelo describes "The French Naval Mission to Peru, 1905-1914," and Joel C. Christenson examines "The US Naval Mission in Peru, 1920-1939." These two fine essays constitute brief suggestions of the much broader topics of overall French and American naval advising in Latin America.  The broadest chronological reach in this volume is achieved by Edward Marolda, "The US Navy's Advisory Mission in Vietnam, 1954-1973" and Douglas Peifer, "Soviet Naval Advising in East Germany, 1949-1990." However, the time covered is relatively short and the geographic scope is confined.
In a way, Stoker's introduction and the twelve essays constitute a highly detailed outline of yet-to-be-written comprehensive national studies. His numerous examples lead the reader to conclude that thoroughly chronicling the naval advising and intervention by the three dominant Western sea powers of the 19th and 20th centuries — Britain, France, and the United States — would require a full volume for each nation. In other words, and perhaps unintentionally, Stoker is in effect calling for three monographs, each devoted to one of the three great powers.
Whether the scholarly interest or institutional structure necessary to undergird such an effort exists today is highly doubtful – for their own volume Stoker and McMaster had to utilize three essays originally published in 1953, 1978, 2009 and another "drawn" from a previously published study. Four of the twelve essays, therefore, are not original to this book. This observation is not meant to demean those essays but rather to highlight the editorial difficulty of assembling fresh studies devoted to the topic of naval advising. As difficult as that may be, it is infinitely simpler than writing a monograph on a single sea power's entire history of naval advising. That being the case, the reviewer can only praise Donald Stoker and Mike McMaster for their gallant effort in assembling the present collection and for introducing it in such a thoughtful and unifying manner.
Kenneth J. Hagan is Professor and Museum Director Emeritus at the U.S. Naval Academy and a former Professor of Strategy and Policy at the U.S. Naval War College's Monterey Program. The author or editor of several books on U.S. naval history and strategy, he guided the national college-level NROTC program's course on naval history for over twenty-five years. He is a retired Captain in the U.S. Naval Reserve.