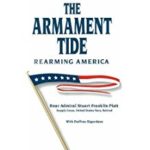 The Armament Tide:  Rearming America
By RADM Stuart Franklin Platt (Ret.), Granville Island Publishing, Vancouver, Canada, (2002).
Reviewed by Jon S. Middaugh, Ph.D
When published in 2002, The Armament Tide envisioned a Pentagon soon to be awash in the waves of procurement dollars that typically flow during times of war. Such large amounts of money can be directed more effectively and efficiently, the book contends, by considering the successes and setbacks procurement officials encountered during previous high- and low-tide periods of funding. The author, retired Rear Admiral Stuart Franklin Platt, served as the inaugural Competition Advocate General of the Navy during the Reagan buildup and, following retirement, observed fundamental shifts in the procurement environment of the 1990s drawdown.
Platt recommends fundamental business concepts be applied to defense purchases. Procurement officials should be wary of single-source contracts. When buying equipment or supply items common to multiple services, large bulk orders are preferable to several smaller requests. Cost-based contracts work best for research and development, while fixed contracts help "hold the contractor's feet over the fire" during production. In general, the Pentagon should act as assertively as a big business to offset the power of defense conglomerates. However, the government also should offer a nuanced rather than arbitrary approach when it cancels or significantly curtails a major contract. Doing so will yield at least some useful equipment to warfighters and will help to maintain a more harmonious long-term relationship with industry.
Indeed, how to foster a healthy, competitive industrial base emerged as the most critical question facing procurement officials following the post-Cold War ebb tide and resulting consolidations within the defense industry. The Pentagon can promote competition for bids by awarding sub-contracts to firms that have lost out on major contracts. But it is not clear that will be enough to sustain multiple competitors long-term. Meanwhile, the wartime demands following 9/11 gave the limited number of suppliers a strong position for securing profits.
Platt's focus on the salutary effects of competition is sensible, and his title cogently emphasizes the different dynamics of procurement during times of war and peace, but the book has minor shortcomings. While brief, parts could be trimmed. Several of the historical or personal anecdotes and documents read easily enough and attest to the author's sincere commitment to the nation's high ideals, but they do not particularly add to the argument (e.g., Emma Lazarus's poem on the Statue of Liberty). A decade and a half after publication, parts of the book seem a bit dated. Nevertheless, The Armament Tide, along with George C. Wilson's This War Really Matters (1998), effectively illuminates enduring political and economic tensions that our large democracy faces when arming its military. And its observations might be particularly relevant now as the Defense Department prepares for another high tide of funding.
Dr. Middaugh is with the Naval History and Heritage Command