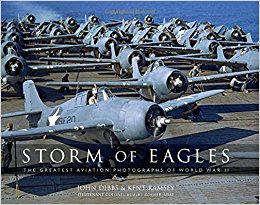 By John Dibbs and Kent Ramsey, Osprey Publishing, UK (2017)
Reviewed by Cdr. Peter Mersky, USNR (Ret.)
This new coffee-table-size book is the result of an ambitious project. The end product is a collection of many excellent photographs, a few of which are fairly well known, but for the most part are new and are well printed in black-and-white and in wartime color. The photos show a wide variety of subjects of aircraft and people from many nations. A single photo of a Polish PZL P.11a fighter and its pilot preparing to take off shows the obsolete equipment the brave but ill-equipped Poles had to defend their country against the much more modern Luftwaffe. Further coverage also includes the aircraft and flight crews of Germany, Japan, Great Britain, France, the Soviet Union, Italy, and the United States. The narrative text that compliments the photos also includes introductions by a few aviators, especially Colonel Steve Pisanos, a 10-kill Mustang ace who emigrated from his native Greece to the U.S. as a youngster in time to join the USAAF and fight for his newly adopted country. He wrote his autobiography, The Flying Greek, published by Potomac Books in 2008, which is an excellent description of a young boy's assimilation in his new country and his subsequent service in defense of his adopted land.
There are very few errors, such as referring to four-star Admiral Husband E. Kimmel, then-Commander-in-Chief Pacific at Pearl Harbor on December 7, 1941, as a two-star rear admiral. On the day of the attack, Kimmel held the temporary rank of admiral (four stars), with a permanent rank of a two-star rear admiral. The originator of the dramatic "No Drill" message is often given to LCdr. Logan Ramsey, who saw a Japanese dive bomber drop a bomb, and then ran to a radio room to quickly send out his "Air Raid Pearl Harbor! This is no drill!" message. However, it was then-RADM  (later VADM) Patrick N.L. Bellinger (Naval Aviator No. 4), with headquarters on Ford Island, who originated the message. A similar message came perhaps two minutes later from ADM Kimmel. There are several subsequent versions of the message, one specifically given as sent from "Rear Admiral" Kimmel, which is probably where the confusion came from for the authors. But on December 7, 1941, Kimmel was a full admiral.
Then, on page 237, a dramatic shot of an F6F Hellcat crashing on the flight deck, accompanied by the caption noting the fighter's "right" main gear is collapsing, when it is, of course, the aircraft's left main gear. And pages 112 and 113 have crossed captions. I wish some of the captions were more expansive. For instance, the photo on page 115 showing the pilots of the highly successful VF-15, with the Navy's top ace Cdr. David McCampbell (34 kills), includes Wayne Morris (front row, fourth from the left), Hollywood's only true ace with several movie credits as well as seven victories over Japanese aircraft.
I also wish the entertaining and often humorous scrap images in the margins had carried more identification as to their source, use, and creators.
These small points aside, Storm of Eagles is a great well-presented gathering of pictures of the aviation side of World War II that readers should enjoy browsing through, and at today's book prices, $35 is not a high amount to spend for such a well-done publication these days.

Cdr. Mersky is a frequent contributor to Naval History Book Reviews.