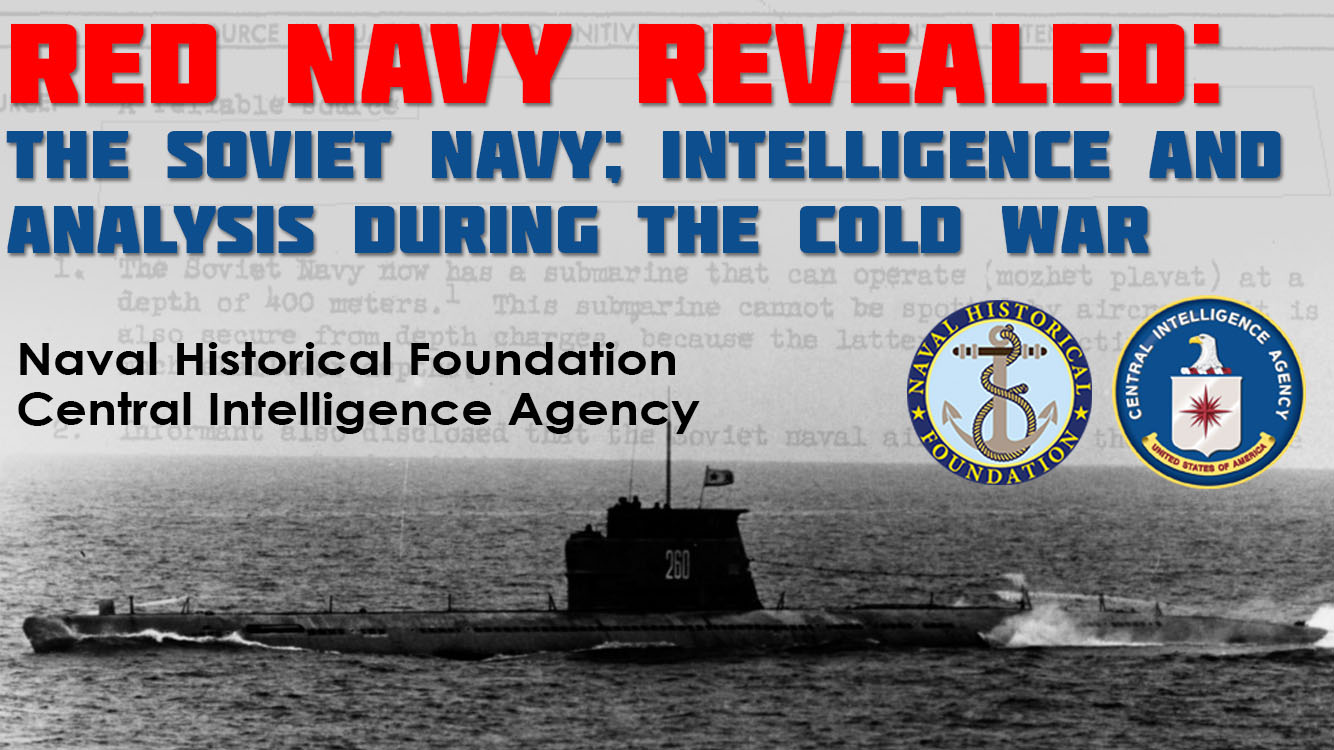 PREVIEW: "Red Navy Revealed: The Soviet Navy; Intelligence and Analysis During the Cold War"
When: 4-6 PM September 6, 2017
Where: The Cold War Gallery of the National Museum of the U.S. Navy in the Washington Navy Yard
Participants: Ms. Celia Mansfield, Dr. David Rosenberg, Mr. George Fedoroff, RADM Thomas Brooks, Mr. Norman Polmar, Mr. Eugene Sullivan, RADM Sam Cox
The Central Intelligence Agency has recently released 82 formerly highly classified documents relating to the strategy, capabilities and operational intentions of the Soviet (Red) Navy during the Cold War. These include individual 1950s and 1960s Human Intelligence-derived reports, late-1960s and early-1970s formal classified assessments of the Soviet Navy, late-1970s evaluations of the role of the Soviet Navy in Sea Line of Communications (SLOC) interdiction, formerly classified Soviet General Staff Military Thought and Warsaw Pact Journal articles, and the 1983 Combat Regulations of the Soviet Navy. There are also two book-length studies, one on Khrushchev's miscalculations in the Cuban Missile Crisis, and the other titled "On the Trail of [Soviet] Submarine Disasters." The Naval Historical Foundation (NHF) and Historical Programs Office at CIA have organized a seminar to place these documents in context and discuss the quality of the analysis given what we now know. Following a welcome by Navy Museum Director James Bruns and NHF Vice President Martin J. Bollinger, Ms. Mansfield will provide an overview of the CIA declassification program and a summary of the recent release. Dr. David Rosenberg will provide a contextual overview of the documents in relation to previously declassified CIA documents and previously declassified U.S. Navy studies of U.S. Navy Cold War operational intelligence and of U.S. naval strategy in the 1970s and 1980s. Mr. Sullivan will discuss the CIA analytical perspective on these documents while RADM Brooks, Mr. Fedoroff and Mr. Polmar will provide perspective on the collection focusing on the evolution of US Navy assessments and understanding of the potential role of the Soviet Navy, particularly its submarine force, in interdicting sea lines of communication (SLOCs) in event of a major war between the US and NATO with the USSR and the Warsaw Pact. The Director of Naval History Rear Admiral Cox will provide closing remarks.
Registration for this seminar can be completed HERE. For those not having access credentials for the Washington Navy Yard, please register before 29 August to submit an access request. Please contact Dr. David F. Winkler (dwinkler@navyhistory.org) with inquiries.