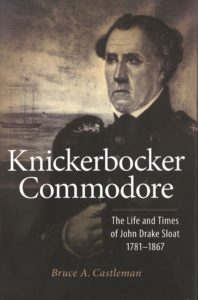 By Bruce A. Castleman, State University Press, Albany, NY (2016)
Reviewed by Charles Bogart
The reviewer doubts that today even one in a million Americans could identify Commodore John David Sloat; however, there was a time when he was well-known across the country. Depending on one's political views, Commodore Sloat was praised or damned. This praising and damning took place in the halls of Congress, in newspaper editorials, and in local political debate. What Sloan had done in 1846 was change the geographic shape of the United States by seizing California with American Sailors and Marines.
In 1800, at the age of 18, Sloat entered the U.S. Navy as a Midshipmen, only to be turned out in 1801 as a result of a reduction in the size of the Navy. In 1812, he returned to the Navy after eleven years as a Sailing Master on various merchant ships. His first 36 years in the Navy would see him gain no fame. Other officers would advance up the ladder of command faster than Sloat while others were kicked out of the Navy for conduct unbecoming. Sloat was just another officer among many doing his duty as laid down in naval regulations.
Readers will find himself asking the question, "Why, in 1844, did the Navy send Sloat to command the Pacific Squadron as tensions were rising between the United States and Mexico as there were other senior officers available for this command who were more highly thought of by the Navy Department?" This section of the book is an interesting read as Sloat juggles the competing demands of various real and perceived crises within his command, a command that included the Pacific Ocean's South and North American land mass and various islands of the Pacific, including Hawaii. How Sloat was able to juggle these competing demands upon his ships and still have sufficient ships off the California coast in early 1846 to seize lodgments within this Mexican territory speaks well of his organizational skills.
Sloat never felt that the Navy adequately recognized him for what he accomplished during the Mexican-American War. In 1857, Sloat was one of the twenty-one senior Captains placed on the Reserve List by the Naval Efficiency Board.
This book is much more than a well-researched and thoughtfully written biography of Commodore Sloat; it is a social history of the U. S. Navy during the years 1812-1857. Commodore Sloat is but the lightning rod used by the author to illuminate the character of the Navy during this period. This book is well worth reading by anyone interested in the U.S. Navy during the years between 1812 and 1857.

Charles H. Bogart is a frequent contributor to NHBR.