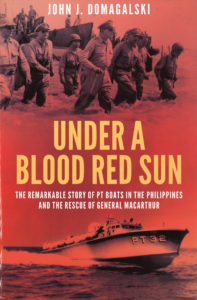 By John J. Domagalski, Casemate Publishers, Philadelphia, PA (2016)
Reviewed by John R. Satterfield, DBA
Motor Torpedo Boat Squadron Three (MTB-3) joined the U.S. Navy's Asiatic Fleet in the Philippines just three months before Japan attacked the islands on December 8, 1941.  Six boats and 82 sailors under Lt. John D. Bulkeley's command performed remarkably until mid-April 1942.
News reports about PT boat action captured the nation's attention, giving Americans some hope in the dismal early months of World War II.  MTB-3's evacuation of Philippine commander Gen. Douglas Macarthur on March 11, 1942, from Corregidor in Manilla Bay to the southernmost island of Mindanao for a flight to Australia instantly became the stuff of legend.
For his exploits, Bulkeley received the Medal of Honor from President Roosevelt. He subsequently led PT boats that scouted the Normandy beaches in preparation for the invasion and screened the D-Day fleet in 1944. Before the war ended, he commanded a destroyer that sank two German corvettes in a naval gunfight. The story of MTB-3s was celebrated in the U.S., leading to the books They Were Expendable and American Guerilla in the Philippines, with movies released in late 1945 and 1950, respectively.
After 75 years, however, the fame once accorded to Bulkeley and his PT squadron has faded. The only torpedo boat most people remember today if they recall any at all is John F. Kennedy's PT-109.
Author John Domagalski has taken the opportunity to rekindle interest in MTB-3's amazing feats, and he has retold their story in compelling detail.  This volume draws from earlier and largely forgotten sources to provide a complete and exciting narrative that seems unbelievable. The squadron's casualty rate was nearly sixty percent. Several were killed in action. Of the at least thirty-eight captured, nine died in captivity, and several more fought the Japanese as guerillas, some until the island was liberated in 1944. It is astonishing that any survived given the odds against the squadron from the start.
MTB-3's boats, built by Elco in Bayonne, New Jersey, were remarkably frail.  Their wood planked hulls were just 77 feet long with a 20-ft beam and 3.5-ft draft.  Armament consisted of four Mark 8 torpedo tubes and three machine gun mounts.  Three twelve-cylinder Packard engines developing 1,500 hp powered the craft up to 40 knots or so, making speed and maneuverability the PT's only real defenses.
Within days, of Japan's first air raids that neutralized the island's U.S. Army Air Forces squadrons, subsequent attacks destroyed military and naval facilities.  MBT-3 operated on a shoestring, with few spare parts, weapons and most importantly little 100-octane aviation gas to fuel engines that became increasingly unreliable without regular maintenance. A week after initial attacks, the first boat, PT-33, was lost, run aground during a night patrol.  Five weeks later, PT-31 was burned after grounding in enemy territory on Bataan's coast. The squadron's patrols became more sporadic and limited as threadbare supplies dwindled, but it still launched attacks against enemy vessels, one of the few shreds of hope in an obviously hopeless situation.
After surviving defensive forces withdrew from Luzon's Bataan peninsula to Corregidor island in Manilla Bay, Bulkeley and his four remaining boats evacuated General MacArthur, his family, and 18 members of his staff to the southern island of Mindanao, still in U.S. hands. The voyage took 35 hours and covered nearly 600 nautical miles. The little convoy went west into the open ocean to avoid Japanese coast watchers and ships, fighting squalls and rough seas with waves up to 20 feet much of the way. PT-32 never made it, running out of fuel.  A submarine picked up crew and passengers, delivering them to Corregidor. The remaining PTs returned to combat, but all were destroyed by mid-April.
Domagalski's story is worth reading since it brings to light a story with central importance to America's vulnerability in early World War II that most people ignore today.  After all, we won the war. This was, however, anything but a foregone conclusion in 1942, too easily forgotten by too many. It is critical that the implications and costs of conflict remain uppermost in the minds of the public and its policy makers. Good history is no substitute for the accurate memories of those who experienced World War II, but the sad fact is, history soon will be all we have left.  More than sixteen million Americans served in the war, and just over half a million veterans remain alive.  Between three and four hundred of these veterans die every day.  Before long, they are all gone. So, Domagalski's volume about MTB-3 is a welcome reprise and a good memorial.

Jack Satterfield teaches military history and business and writes about military topics.