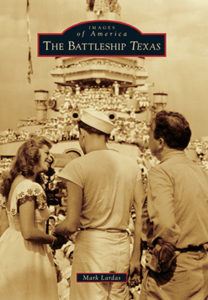 By Mark Lardas. Arcadia Publishing, Charleston, SC (2016)
Reviewed by Ed Calouro
Author Mark Lardas has written a short, succinct, and largely successful illustrated history of the second generation dreadnought battleship Texas. Though not on par with Paul Stillwell's longer and more detailed biographies of New Jersey, Arizona, and Missouri, this book nevertheless serves as a good primer for those considering a tour of the battleship or just wishing to learn more about America's only preserved big-gunned warship which served in both World War I and World War II.
Lardas is a prolific author.  He has written over twenty books, with three future volumes.  He has penned over one hundred articles, many about maritime history.
 The Battleship Texas is part of the Images of America series. According to its website, Arcadia Publishing provides "chronicles that accurately capture the essence of what gives each American small town, neighborhood and downtown its unique flavor."
This volume is 127-pages long, but there are only six pages of text. The remaining pages are devoted to pictures with captions. This is not a serious academic work; rather, it is an introduction to the battleship Texas. There are no footnotes, and the bibliography contains only six entries. This book is largely an illustrated battleship biography and a pictorial history. That noted, if a picture is worth a thousand words, this book speaks volumes.
The Battleship Texas is divided into four sections. The introduction provides information about the warship's building, operational history, and time as a museum ship. Section One, "Navy Warship," reiterates some of the operational history, then presents thirty-nine pages of pictures and captions of the warship and the men who served on board.  Section Two, "Museum Ship and Monument," presents a one-page textual synopsis of the sixty-nine years the dreadnought has been open to visitors along with thirty-five pages of pictures and captions.  The final section, "The Texas today," provides photographs of what tourists may see if they board the ship at its berth in La Porte, Texas, outside Houston.  There are also photographs of compartments the general public cannot access.
Lardas notes, "Texas was a ship of firsts and lasts" (p. 7).  She was the first American dreadnought to have a main armament of 14-inch guns. The first aircraft to fly off an American warship did so from the Texas in March 1919.  She was one of the first to mount anti-aircraft guns (1917), and Texas was the first battleship donated to its named state (1948).  She and her sister (New York) were the last battleships to burn coal. She was the last USN battleship to have triple expansion reciprocating engines, for which she earned a National Historic Mechanical Engineering Landmark distinction, along with being named a National Historic Landmark.
Texas was one of six USN battleships which served with the British Grand Fleet during World War I. She was present when the German High Seas Fleet surrendered in 1918. Texas was part of the Neutrality Patrol in 1941 and was unsuccessfully stalked by U-203.
During World War II, the aging battleship took part in Operation Torch (Nov. 1942) and the D-Day landings at Omaha Beach.  She was hit by two German 11-inch shells at Cherbourg and provided gunfire support for the invasion of southern France.  In the Pacific, Texas supported the Iwo Jima and Okinawa invasions.  She brought American soldiers home as part of Operation Magic Carpet.
Lardas correctly noted that Texas has had more scrapes with death as a museum ship than as an active warship. In 1986, she sank at her moorings. In 1988, on her way to dry dock, she almost sank again. During her 1988-1990 dry docking, over one-sixth of her hull was replaced.  Despite this, Texas sprang leaks several times from 2010 to June 2017, when she took on a list of almost 8° to starboard. The ideal remedy is to place Texas on land; but lifting the 27,000-ton battleship and placing her on a dry berth would require an engineering marvel, with an estimated cost in the $70 million range.
This small book is packed with information about the battleship Texas.  Alas, there are some minor errors.  Texas' commissioning date is listed as April 12, 1914 (p. 7) when it was March 12, 1914 (p. 18 and accompanying bookmark). Lardas notes the U.S. "remained neutral until April 1916," (p. 7) when America did not declare war until April 1917.  The author claims Fleet Admiral Chester Nimitz was "one of only five six-star admirals in the US Navy" (p. 55).  He was the third of four admirals promoted to five-star rank during or shortly after WW II.  There are other slight mistakes which do not materially affect this book.
The Battleship Texas is a fine starting point for anyone wishing to learn more about this unique historic ship and its proud service record.
Battleship Texas: this grand lady is 103 years old and showing her age. It will take Herculean engineering and fund-raising efforts to preserve her.  Let us hope her caretakers can perform another miracle and battleship buffs have more than this solid book to increase their knowledge about this splendid dreadnought.

Ed Calouro is an adjunct instructor in the History Department at Rhode Island College.