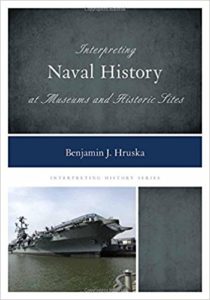 By Benjamin J. Hruska. Rowman & Littlefield, Lanham, MD (2016)
Reviewed by Heather M. Haley
Over the past three decades, debates over the professionalization of public historians have raged between academic historians and those who involve themselves in archival management, museum curation, and the digital humanities. Benjamin Hruska, former director of the Block Island Historical Society (Rhode Island), explores the various ways that naval history is commemorated, institutionalized, memorialized, disseminated, and understood by a general audience in Interpreting Naval History at Museums and Historic Sites. While traditional understandings of the historical discipline typically ally with university instruction and research, public history seemingly equates to "projects and conference papers weak in theory and methodology." Hruska challenges this assumption by grounding his work in Pierre Nora's concept of "Les Lieux de Memoire," or sites of memory. He argues that public historians developed techniques to interpret naval histories based on the recollections of veterans whose memories are attached to the historic objects related to their service.
Divided topically into four chapters—Commemoration, Objects, Exhibitions, and Public Memorials—Hruska offers a number of case studies to demonstrate the various curatorial methods employed by public historians involved in naval interpretation in the United States and across the globe. In relation to commemoration, public historians have the additional challenge of memorializing sea battles and vessels, which lack a land-based site. The preservationists who sought to commemorate the 1805 Battle of Trafalgar, for example, did so with the display of Lord Horatio Nelson's flagship HMS Victory at the National Museum of the Royal Navy in Portsmouth. In 1922, preservationists moved quickly to address the deterioration of the "aging wooden hull," which "functioned as a link to Nelson and the epic battle," by placing the vessel in permanent dry dock. Thus, the public display of HMS Victory is the means by which the public conveys alternative and contemporary meanings to the heritage of the artifact itself.
The collective memories of Navy veterans materialize in the present through their display of artifacts and photographs at reunions. While most vessels are sold or broken down for scrap, smaller portable objects from naval service take on a remarkable amount of meaning. Hruska suggests that "tangible objects from daily life that marked their time at sea morph into objects for recalling service." In an effort to share these memories with the public, curators incorporate these objects into museum exhibitions that review history on the individual, local, or national level. Navy veterans, therefore, trust museums to preserve and exhibit artifacts related to their service and interpret their memories as they relate to the greater history of the U.S. Navy. Battleship Cove in Fall River, Massachusetts is emblematic of this curatorial behavior. With the largest floating tonnage of World War II-era vessels—including USS Massachusetts (BB 59), USS Joseph P. Kennedy (DD 850), and the submarine USS Lionfish (SS 298)—Battleship Cove offers an innovative and immersive experience with their implementation of new methods of historical interpretation, including battle reenactments and overnight programs for younger patrons in which they eat in the officer's mess and sleep in bunks. The incorporation of artifacts and oral history testimonies produce exhibitions for those "who have no personal connection to the era or conflict."
Hruska's well-intentioned monograph does not challenge the aforementioned debate between public and academic historians, but rather perpetuates it with his reliance on curatorial and exhibition websites for tertiary information. His case studies read like exhibition reviews as they detail the technicalities and intricacies of interpreting these sites. As a result, this book is most useful for individuals engaged in historic preservation, interpretation, or museum curation. One volume in the Interpreting History Series from Rowman and Littlefield, Interpreting Naval History at Museums and Historic Sites is not an explicit naval history, but a necessary addition to the libraries of public historians.

Heather M. Haley is studying for her doctorate at Auburn University.