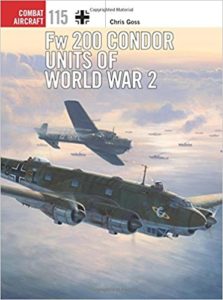 By Chris Goss, Osprey Publishing, New York, NY (2016)
Reviewed by Cdr. Peter Mersky, USNR (Ret.)
This new book details one of World War II's least known but, at the time, most efficient aircraft, if only for its psychological effect on allied, especially British, morale. For approximately three years, the Condor patrolled the convoy routes between the U.S. and Europe, seeking to destroy the vital shipping so critical to the Allied war effort. It is interesting to consider that the Fw 200 was derived from an airliner, much like the U.S. Lockheed P-3 Orion maritime patrol aircraft came from the Lockheed Electra turboprop airliner of the late 1950s. The two were very similar in design and intent, although the P-3 had a much longer and more successful career than its German counterpart of the early1940s.
For an aircraft that spent much of its time skulking around the sea lanes, prowling for prey in the form of freighters bringing much-needed supplies, planes, tanks, and ammunition, the Condor saw quite a bit of recent coverage in print. Osprey published another book, this time in its Duel series, Fw 200 Condor vs. Atlantic Convoy, 1941-43, by Robert Forczyk (2010) that has quite a bit more specific detail on the Condor than this new book, such as armament. Together these two books form a highly detailed account of this briefly important wartime hunter. An account and photos of the Condor also appear in Airwar over the Atlantic, by Manfred Griehl, in the Luftwaffe at War series published by Pen & Sword's Greenhill Books imprint (2003).
Chris Goss's book describes the early years of the Condor as a German airliner then moves to its wartime career when the Luftwaffe was looking for a long-range type to intercept and take out the various surface traffic that was helping sustain the hard-pressed countries like Great Britain as it struggled to defend itself against the terrible aerial assault before the water-borne invasion they knew Hitler was planning. It was, indeed, a terribly tenuous time. The "notorious Focke Wulf" became a constant verbal target for Prime Minister Winston Churchill and even came into its share of  "stardom" when shown attacking American freighters as they neared supposedly safe harbor after a long, hazardous struggle across the Atlantic. Movies like Action in the North Atlantic and Passage to Marseille, both starring Humphrey Bogart in his traditionally tough, purpose-driven American fighting for freedom role, also had sequences where quite accurate models, and actual film of Condors on the attack made for exciting climaxes that gave audiences a taste of what they and their men in service were fighting against.
Chris Davey's usually accurate and interesting color profiles as well as Mark Postlethwaite's impressive cover painting showing, of all things, a Condor and an RAF Whitley bomber dueling in a big-plane version of a dogfight, combine with the text to make a great addition to this highly successful line of aerial histories.

Cdr. Mersky is a frequent contributor to Naval History Book Reviews.