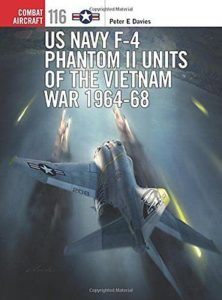 By Peter E. Davies, Osprey Publishing, Oxford, UK and New York, NY (2016)
Reviewed by Cdr. Peter Mersky, USNR (Ret.)
No. 116 in the highly successful Combat Aircraft series from this prolific publisher and author, this new book is an excellent compilation of Navy squadrons that flew the F-4 in Southeast Asia. It's one of the best histories I have seen on the Phantom even though there have been many through the years. There is always someone who can bring their take to the subject and produce a, highly readable product.
Davies combines newly found photos, first-person experiences, and striking cover artwork and pages of fantastic color aircraft profiles. The reader gains an in-depth understanding of how Navy Phantom crews entered the Vietnam air war and the problems and successes they experienced during this frustrating conflict.
I found several sections interesting, which included new material on a familiar aircraft. There are details on tactics devised by F-4 crews as their involvement in Vietnam grew, as well as information on the various ordnance carried by Phantoms, both bombs and the Sidewinder and Sparrow AIMs. I am sure that veterans of the war who flew F-4s will enjoy reading Davies' assessments of various systems and their successes and failures against MiGs as well as ground targets.
Development of the basic F-4 also comes under close scrutiny. The second volume that will discuss action from 1969-73, especially with the climactic aerial engagements of 1972, should be just as colorful and detailed as this first book.

A 1967 graduate of the Rhode Island School of Design, as well as a 1968 graduate of AOCS, retired Cdr. Peter B. Mersky holds a FAA commercial/instrument rating and has flown in many front-line aircraft of their time. He has written 16 books, more than 100 magazine articles, and more than 700 book reviews for various magazines, as well as his book review column for Naval Aviation News since 1982. He was also the editor of Approach magazine when he retired in 2000 with more than 32 years of Federal service.