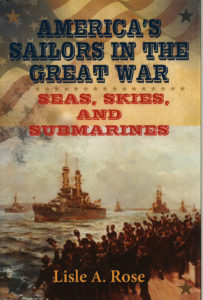 By Lisle A. Rose, University of Missouri Press, Columbia, MO (2016)
Reviewed by Capt. Andrew C. A. Jampoler, USN (Ret.)
Dr. Lisle Rose has taken on a challenge in this, his seventh book for the U. of M. Press. This history of U.S. Navy operations during World War I rightly begins by explaining that the American navy participated in none of the war's few major surface engagements, nor in any of its amphibious operations (chiefly at Gallipoli), managing to sink only one of the 128 German U-boats lost at sea, U-58.
In fact, the United States joined the war when much of the horrific fighting and killing had passed, at about the time that Tsarist Russia collapsed into the revolutions that would see the Romanovs assassinated, the Bolsheviks in power, and Russia out of the fight by year-end.
What is there to write about the American role in the war at sea; a war that in its last years spooled out in a way no one had expected: as a duel to the death between rival blockades?  What the U.S. Navy did do, Dr. Rose explains, "contributed signally to the eventual victory…American sea, air, and land power nonetheless provided the decisive margin of force that check-mated and finally overwhelmed the Kaiser's soldiers after four years of stalemate and bloodshed." (39)
After a scene-setting first chapter ("State of Play"), the following eight well-researched, well-annotated chapters make a case for that thesis. The last chapter describes the humiliating surrender of the German High Seas Fleet, a miserable substitute for both sides for the climactic, Trafalgar-like battle sailors had prepared for. Governments in Great Britain and Germany had paid hugely to stage and win, and Mahan had taught everyone to expect.
Rose is good on the high stakes politics (inside a squabbling U.S. Navy badly organized to fight anything but itself and its secretary, within Washington, and between Washington and London), and especially good on the operations. Chapter three ("Aloft") limns nascent naval aviation's role in the war, and its astonishing growth from 34 pilots and 54 aircraft to more than 2,000 aircraft and some 23,000 aviation personnel.  The next six look successively at other operational aspects of the war, on the deployment of U.S.N. ships (from dozens of tiny sub chasers to a double handful of battleships), particularly on the reluctant shift to trans-Atlantic convoying.  This last, thanks to Germany's inability to fashion an effective counter, became the pedestrian but superbly successful solution to the near fatal assault by U-boats on Great Britain's ability to stay in the fight.
Atlantic convoys, carrying material to feed, fuel, and arm Great Britain, also carried the first two-million-man tranche of what could have become millions more "doughboys," American infantrymen. Their arrival in an exhausted Europe would indeed have led to the unambiguous victory in the field on the Western front that never happened.
Dr. Rose's thorough research seems to have missed only the sailing of the armored cruiser Tennessee in early August 1914, carrying millions in $20 gold coins to England for the relief of American tourists and expatriates—the first American combatant ship ordered into the war zone—and her later, months-long deployment with USS North Carolina into the Eastern Mediterranean that, perhaps, just missed prompting the U.S. into the war in 1915.
His good book is marred, but not diminished, by poor proofreading.    "Sight" has become "site" on page 112, and "alsH''''''" appears on page 118.  Elsewhere, other unpronounceable typographical mysteries dot the page.  His scholarship merited better than this. Dr. Rose has done an excellent job in a single volume of describing the U.S. Navy's three-dimensional role in the Great War.  His book is complete for the reader with a passing interest in that war, and a good introduction for one with a greater appetite for its details.  I recommend it.

Captain Jampoler is a former Naval Historical Foundation Director and author of many books, mostly dealing with 19th century naval/maritime themes.