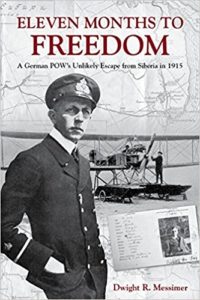 By Dwight R. Messimer, Naval Institute Press, Annapolis, MD (2016)
Reviewed by Timothy Heck
The 1915 escape of Fähnrich zur See (Midshipman) Erich Killinger from Imperial Russian captivity is a fascinating tale of survival, adventure, and luck.  Dwight Messimer, a prolific author who has previously written on World War I aviation and prisoners of war, brings Killinger's story to English audiences. Messimer has cleaned up Killinger's works (published in 1917 and 1934) and expanded the story to include his service during World War II.
A midshipman when the war was declared, Killinger eventually trained as an aerial observer and transferred to the Baltic to fight against Imperial Russia. Flying an obsolete floatplane, Killinger and his pilot, Oberleutnant zur See Karl von Gorrissen, crashed in April 1915 after they lost a propeller over Libau (now Liepāja in Latvia).  Captured by Tsarist troops, Killinger and von Gorrissen were eventually transferred to St. Petersburg's Trubetskoy Bastion Prison. En route, Killinger attempted his first escape. After a short stay in the prison, Killinger and other POWs were placed on trains en route to Vladivostok and work in the Russian coal mines.
Killinger continued to focus on escape throughout his travel from European to Asiatic Russia. After several stays at prison camps east of the Urals, he recognized the futility of escaping from the major camps. His best chance, he determined, was while aboard the prison train itself. On October 28, 1915, Killinger and three other prisoners escaped into the snows and started their forty-five-day journey towards the German consulate in Mukden, China (now Shenyang).
In Mukden, Killinger and his fellow evaders entered the professional escape network run by the German Foreign Office, which provided counterfeit documents and moved them further south. Eventually, Killinger parted ways with his compatriots who opted to travel back to Germany via Russia whereas Killinger chose to travel via the United States. After performing several tasks for the German Navy in China, Killinger boarded the SS Shinyo Maru on New Year's Day, 1916, for his journey to the United States, in the identity of the French businessman Richard du Fais.
Aboard the Shinyo Maru, Killinger failed to maintain a low profile and committed several indiscretions that nearly cost him his freedom. Befriended by an American couple, the Woodfields, Killinger confessed his true identity. The Woodfields, like Killinger, had recently been in Siberia and visited several POW camps while on their honeymoon. Upon the Shinyo Maru's arrival in San Francisco, the Woodfields' honeymoon was the focus of eager society reporters and Killinger finds his cover immediately blown.
Despite this setback, Killinger obtained a new identity from the German consulate in San Francisco and traveled to New York where he was effectively left to his own devices by the German escape line. This breakdown was in stark contrast to the support he received in China and on the American West Coast. Killinger eventually obtained another set of papers and set sail aboard a neutral freighter for Norway. He successfully eluded the British blockade controls and returned to service in Germany. Although Killinger published the first account of his escape in 1917, Messimer does not go into the reception it received in Germany nor its impact on Killinger's life.
Messimer's concluding chapter, entitled "War Criminal," covers Killinger's command of a POW camp in Oberursal during World War II and his subsequent trial on war crimes charges in late 1945.  Though outside of the primary scope of the book, Killinger's role in mistreating, or condoning the mistreatment of, Allied POWs is a fascinating post-script to his experiences as a prisoner.  This section, however, lacks in-depth analysis of Killinger's wartime actions or his motivations.
Messimer's ability to pull German and American sources helped flesh out some of the details of the story, but he left other areas uncovered.  A potential Russian agent, Teplitzki (listed in American immigration records as Simon Teplizki), is introduced as the Shinyo Maru was a day outside of San Francisco. Other than repeating Killinger's suspicions, Messimer does not go deeper into the possibility that Teplitzki was a Russian agent or larger Allied efforts at penetrating German escape lines. Several other opportunities existed for Messimer to better place Killinger in context. As the New York Times reported on November 8, 1915, several months before Killinger arrived, over 200 escaped German officers were suspected of passing through New York City en route home.  Unfortunately, Messimer does not present this story to better flesh out both Killinger and the larger context of German escapees.
Eleven Months to Freedom documents the near-impossible tale of a true escaper.  For readers interested in an individual account of life as a prisoner of war and evader, Messimer has written an exciting book. For readers looking to understand the larger narrative of the POW or escapee experience in Russia during World War I, Eleven Months to Freedom helps illuminate one part of that world but is not a comprehensive study.  Works like Rachamimov's POWs and the Great War: Captivity on the Eastern Front provide the some of the context for what makes Killinger's tale extraordinary.

Timothy Heck is a graduate student at Kings' College, London, in the Department of War Studies.  He is an artillery officer by training.