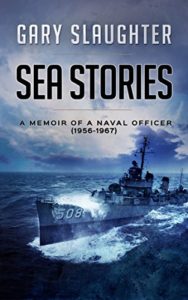 By Gary Slaughter, Fletcher House, Nashville, TN (2016)
Reviewed by Charles Bogart
Gary Slaughter has crafted a fascinating book about his service in the U.S. Navy. The narrative starts with his life as a small town boy seeking greater opportunity than his surrounding area offers. His method of choice to escape his small town is to join the Navy. A scholarship to the NROTC program at the University of Michigan opens a new world to the author. The Navy was then his career choice until circumstances beyond his control led him to resign his commission. His seven years as a commissioned officer saw much of his Navy career revolve around the activities of Task Force Alpha, which was a U. S. Navy anti-submarine task force built around the carrier USS Valley Forge (CVS 45).  The author's two midshipman cruises were on board Valley Forge while his two sea duty tours were on USS Cony (DDE 508) and USS Blandy (DD 943).
Slaughter provides us with 60 short stories which chronologically tell of his progression from civilian to the naval officer and from bachelorhood to marriage. The stories revolve around Navy social life, Navy home life, attending Navy schools, and life on board Navy ships. All of these stories make a fascinating telling of the Navy culture that existed in the 1960s. I doubt that the manner in which the author was qualified for OOD would happen in today's Navy. His tale of the $5 for $7 loan racket operator and the ship's command buy into it, reads just like the $5 for $7 loan operation on my ship.
The two stories that were most interesting to the reviewer were the Slaughter's involvement in the surfacing of the Soviet Foxtrot Submarine B-59 while onboard Cony during the Cuban Missile Crisis and the boiler room explosion onboard Blandy. Both stories call for greater detail than that provided by the author in his account. In particular, the boiler room explosion is far too short in detail as this boiler room explosion would lead to the author's resignation from the Navy. The author faults the Navy's Personnel Department for failing to supply Blandy with qualified boiler room watchstanders, while the CNO expected Blandy to operate as if she had a qualified boiler room watch. The author notes with satisfaction and sadness that after the explosion, the Navy was able to deploy to Blandy the two qualified boiler room watchstanders he had been seeking without success during the previous six months.
After leaving the Navy, Slaughter went on to have a very successful career in management, working first for Newport News Shipbuilding and Dry Dock and then AT&T, before founding his management company. The book is a great look back upon the Navy in the 1960s, if only more surface officers would write of their Navy careers.

Bogart is a frequent contributor to Naval History Book Reviews.