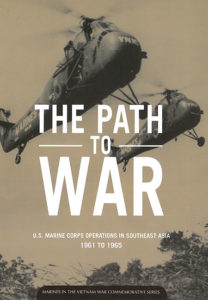 By Col. George R. Hofmann Jr. USMC (Ret.), Marine Corps History Division, Government Printing Office, Washington, DC (2014)
Reviewed by Charles Bogart
The title of this publication is somewhat misleading, as the author actually covers the period 1954 to 1965 within the pages of this book. It covers both political and military matters of that era relating to Southeast Asia and the Marine Corps. The Marine Corps first became involved in Southeast Asia in October 1954 when Marine advisors were assigned to the newly formed South Vietnamese Marine Corps. The first commitment of a Marine unit to Southeast Asia took place between March and October 1961 when 300 Marines from Marine Airbase Squadron 16 (MABS-16) were deployed to Udorn, Thailand, to support Air America helicopter operations.
Col. Hofmann centers his discussion of events in Southeast Asia around the topics of political and military actions in South Vietnam and their effect on the rest of the region. The first half of the book is concerned with the development and deployments of the South Vietnam Marine Corps and the involvement of individual Marines and Marine units in their support. The author within the above context explores what led to USMC units being deployed to South Vietnam's I Corps area. Col. Hofmann also explores the Marine Corps unpreparedness to conduct counter insurgent operations and the changes in doctrine and training the Corps had to undertook to meet this challenge.
The story of the 1961 deployment of MABS-16 to Thailand to provide maintenance support to Air America's Sikorsky HUS-1 Seahorse helicopters is well told. Col. Hofmann not only tells the story of what the men of MABS-16 accomplished in support of Air America, but the interaction between the U.S. State Department and U.S. Department of Defense concerning the activities of MABS-15 within Thailand.
Deployment of Marine Corps units to South Vietnam is covered in the last half of the book. Col Hofmann in telling this story starts his account in April 1962 when HMM-362 with its Sikorsky UH-34D helicopters deployed to Vietnam and ends it in March 1965 with the amphibious landing of Battalion Landing Team 3/9 on the beaches north of Da Nang, South Vietnam. This story of the deployment of Marine units to Vietnam is set within the political and military situation evolving in Vietnam and the world. This tale covers both administrative and combat actions undertaken by the Marines in Vietnam.
The contents of this book are supported by a great collection of black and white photographs and colored maps. The story told will appeal to both the historian and the casual reader.

Charles H Bogart is a frequent contributor to Naval History Book Reviews.