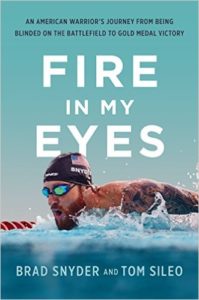 By Brad Snyder and Tom Sileo, Da Capo Press, Cambridge, MA (forthcoming 2016)
 Reviewed by Stephen Phillips 
Brad Snyder felt a call to service, choosing a path through the U.S. Naval Academy to leadership as a U.S. Navy Explosive Ordnance Disposal (EOD) Officer. EOD Technicians, our military's bomb squad,  serve in the vanguard of modern war, protecting their countrymen and others from the elusive yet now iconic improvised explosive device, or "IED."
On September 7, 2011, Lieutenant Snyder was on patrol with U.S. Navy SEALS and Afghan Special Forces. While rapidly clearing a path to enable rescue of two men severely wounded by an IED, Snyder initiated a second device. The detonation threw bomb fragments that sliced into his right hand and across his face. Brad Snyder lost both of his eyes.
One year later to the day, the anniversary wounded veterans refer to as "Alive Day," Brad Snyder won the Gold Medal in the 400m freestyle at the Paralympic Games in London.
Fire in My Eyes is Snyder's autobiography written with Tom Sileo. It is a journey of persistence learned in competive swimming, and forged with lessons in leadership at Annapolis. The book relays the steadfastness needed to complete the military's most daunting combination of mental and physical curriculum of diving and bomb disposal. It describes resiliency discovered while enduring the loss of freinds and loved ones. It is a visceral story of fortitude, of striding into harm's way time and again for the sake of others. Finally, Fire in My Eyes is simply inspirational, the memoir of a sailor, an officer, who chooses to wrestle with life's demons time and again, and emerges victorious due to equal parts talent, effort, and will.
The prose is strong and authentic, while also imparting humility, forming a compelling narrative. Veterans, especially service academy graduates and disposaleers, will connect with their own experiences due to Snyder and Sileo's superior composition. Fire in My Eyes will summon for Annapolis grads the smell of white works as they emerge from swim class in Lejeune. EOD Techs will be transported back to EOD school's IED phase and the iconic lift ballon test for Navy Techs. Combat veterans will undoubtedly revive the heat and noise of Iraqi cities during a convoy, and the chill and quiet of Afghanistan's mountains while hunked in an observation of the enemy.
Fire in My Eyes must sit prominently next to other phenomenal stories like Elizabeth Kauffman Bush's America's first Frogman and Aaron Ralston's autobiography, Between a Rock and a Hard Place. To those aspiring to serve, who volunteer for EOD or seek a service academy appointment, Fire in My Eyes is mandatory reading before swimming a lap or submitting an app. Through these pages they will truly understand what service is, what one is called to do.

Stephen Phillips, a Naval Academy graduate, is a retired Navy EOD Officer and author of Proximity and The Recipient's Son.