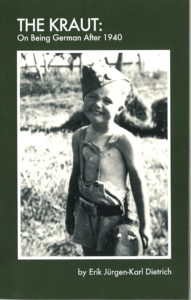 By Erik Jurgen-Karl Dietrich, Self-Published (2015)
Reviewed by Charles Bogart
This self-published autobiography tells the story of Erik Jurgen-Karl Districh who was born in Germany in 1940. After the war, he lived in England until 1957, when he immigrated to the United States at age 17. After arriving in the United States, the author served first as an enlisted man in the U. S. Army from 1958 until 1964. After his discharge from the Army, he went to college and in 1971 earned a Ph.D. in Literature. After teaching at various schools in Massachusetts for two years the author joined the U.S. Navy as an Ensign.
The author tells the story of his life and that of his family within twenty chapters. These chapters average ten pages in length and carry the story of the author's life chronologically. The author's time in the U.S. Navy consumes some thirty pages, covering mainly his shore duty in Public Affairs. The author was involved in the coordinating of the Navy's participation in the nation's bicentennial celebration. His story of the development of today's Navy's "Don't Tread on Me" Jack is a thoughtful tale of staffing a program through the Navy and other Federal agencies. The State Department was against the idea of the "Don't Tread on Me" Jack as they thought it was too provocative.
The author was also involved in the salvage of the sailing ship St. Mary, which in the 19th century had gone aground in the Falklands. This Maine-built ship, upon recovery, was transported to the Maine State Museum in Augusta, Maine. The author also participated in the failed recovery of the sailing ships Charles Cooper and Vicar of Bray and an unsuccessful voyage to locate the wreck of Bonhomme Richard.  I will let the reader decide if the story the author tells of why he did not make Captain rings true. The book closes with a chapter on the author re-connecting with God.
The audience the book is written for appears to be members of the author's family and their extended network of friends. The book is an interesting and inspirational look at one man's journey from a childhood of poverty, to a life of upper middle class prosperity. The book is illustrated with a number of half tone black and white photos. The book for its $9.95 price is a nice weekend read.

Charles H Bogart is a frequent contributor to Naval History Book Reviews.