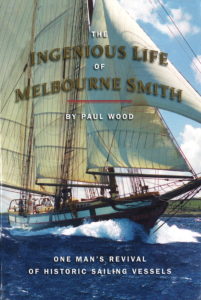 By Paul Wood, Woods Maritime, Kamuela, HI (2015)
Reviewed by Charles Bogart
Paul Wood has written an excellent biographical account of naval architect Melbourne Smith who is the President of the International Historical Watercraft Society, and serves as Advisory Board Chairman for the National Maritime Historical Society and trustee of the American Ship Trust. Born in Hamilton, Canada, Melbourne Smith went to sea as a teenager and thereafter never lost his love of being a mariner. His life at sea and ashore is the story of a larger than life person. The tale of Mr. Smith service with the Guatemalan Navy is alone worth the price of the book. However, the heart of the book is the story of Mr. Smith growth from an ordinary sailor to a world renowned naval artist and naval architect.
Mr. Smith has been involved in bringing to life of a number of replica historic sailing vessels as a naval architect. Starting in 1975, with the building of Pride of Baltimore, Mr. Smith's reputation as a master wooden sailing ship architect has grown over the years. Among the other modern replica sailing ship he has been involved with are USS Niagara, Spirit of Massachusetts, Lynx, and Endeavor. His involvement in these projects has run the gambit of design of the ship, building the shipyard, hands on construction and fitting out of the ship, and the sailing of the ship. Mr. Smith is also one of the founders the American Clipper Trust, which plans to re-construct the 1845 clipper ship Sea Witch.
As an artist, Melbourne Smith has created various maritime paintings or ship profiles drawings that hang in noted maritime museums and art galleries around the world. Readers of this review may be familiar with the ship prints that he created for publishing by both the U.S. Naval Institute and the American Heritage Press.
To reflect on Melbourne Smith's growth from child to a world renowned sailing ship authority, the author has divided his book into three distinct sections, each corresponding to a phases of Melbourne Smith's intellectual development: sailor, shipwright, and designer. Each section is a joy to read and one gets the feel of how Mr. Smith's life moves forward, part is due to happenstance but the greater part is due to his commitment and focus. When opportunity knocks, Mr. Smith reaches out with gusto to embrace and cultivate it. The book is a splendid and thoughtful read of a man enjoying to the utmost a productive civilian maritime life. Take some time to read this book and then pass it on to your local high school library. 

Charles H. Bogart is a frequent contributor to Naval History Book Reviews.