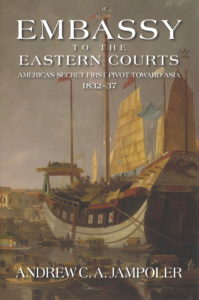 By Andrew A. Jampoler, Naval Institute Press, Annapolis, MD (2015)
Reviewed by John Grady
Having spent a great deal of time reading accounts and logbooks from the voyages of Thomas ap Catesby Jones, John "Mad Jack" Percival, John Downes, William Bolton Finch, Charles Wilkes, et al., of American encounters in the Pacific, in Asia, in Africa and "Arabia," I came to Andrew A. Jampoler's work a bit skeptical about what I would find new. I found plenty in the Embassy to the Eastern Court, America's Secret First Pivot Toward Asia 1832-37.
I was especially taken with Edmund Roberts, the struggling diplomat [almost without portfolio] trying to open these faraway markets to legal and regularized trade with the United States and his treatment ashore by foreign potentates.
Potentates weren't his only official obstacle.
Afloat there were often tensions with highhanded Navy captains, who were to "required to take my orders," one of his cavalier predecessors told a senior sea service officer. As Roberts wrote about what needed to be clarified between the senior diplomat and officer once they were under way were the rights of "the agent or envoy" including cabin space.
Two-thirds of Roberts' salary came from State and one-third from the Navy, and the Navy had to transport him to his far-off duties.
Twice, Roberts, from Portsmouth, N.H., and relative by marriage to Navy Secretary Levi Woodbury, set out aboard Peacock to put an official American stamp on trade in these waters. Merchant mariners from Salem, Mass., in particular, [the original "Yankee traders"] had been cruising around the Cape of Good Hope and Cape Horn risking all for profit — in tea, sandalwood, etc. — almost since the founding of the Republic.
What they succeeded in trading had no official sanction, but their boldness in trying to sell what they had on board for what they could carry back home.
Even before there was a United States, the Royal Navy had proven to be no stranger to those waters and ports; and before the dawn of the 19th century were handling chieftains, omans, etc., pieces of parchment to sign giving Great Britain either exclusive [preferred in Whitehall and the Admiralty] or most preferred trading status, if they couldn't wheedle the "only" clause into the agreement.
The British were following in the wake of the Portuguese, Spanish, Dutch and racing alongside the French in wresting concessions of every kind imaginable.
Secretary of State Edward Livingston's instructions to Roberts on the first voyage were simple.  They concluded about his pending negotiations with the rulers of Cochin China [Vietnam], Siam [Thailand] and Arabia [actually Omam which also ruled Zanzibar and controlled other Indian Ocean ports and territories] with this:
"An important point is to obtain an explicit permission to trade, generally with the inhabitants, for it is understood that at most, or all of the ports, the Mandarins or other officers, now monopolize the commerce, permitting more of the inhabitants to trade with foreigners."
Later directives to men like Roberts from State and to Jones and Finch from the Navy secretary included caring for sick or injured merchant mariners, freeing sailors being held by pirates and disposition of cargo salvaged from shipwrecked vessels.
Much easier written than done, although Roberts did succeed in concluding treaties with Siam and Oman covering many of these areas.
This set of diplomatic initiatives was coming from the administration of President Andrew Jackson was, shall we say, "slow," to put a premium on foreign affairs — even the sprawling Oregon Territory jointly administered with Great Britain for most of its time in office. This was the administration that put on hold — for years, the Navy's Great South Seas Exploring Expedition proposed John Quincy Adams in his first State of the Union message because it would cost too much. Wilkes was eventually named its commander, and the flora and fauna gatherings that scientists amassed on this voyage forms the Smithsonian Institution's first natural history collection.
Jampoler's Embassy is rich in personalities, such as Roberts, and he puts them in perspective to the time. For Roberts' family the story ends sadly when finally overcome by sickness and the travails of months at sea, especially in the tropics, claimed his life.  He is buried in Macao, at the time a Portuguese-controlled island off the coast of China, far from his New England home.
Jampoler, the author of six other books, does a first-rate job of delineating the Navy at this time, the world stage at the time — Great Britain, France and the Netherlands competing for footholds and trading posts far from their homeland and provides wonderful color of the ports along the Pacific-Indian oceans rim.
He did in this work on diplomacy, maritime trade and the Navy's role in both what he did so very well in Sailors in the Holy Land," the entryway to the American age of exploration.

John Grady is an experienced journalist and volunteer with the Naval Historical Foundation.