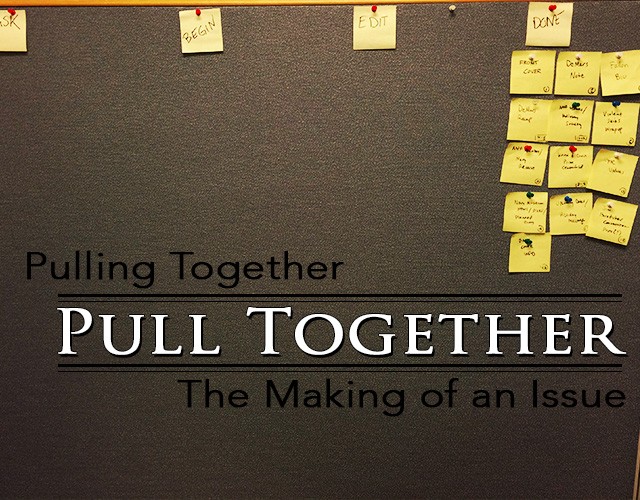 A Blog Series by Matthew T. Eng
With base access at the Washington Navy Yard restricted, I wanted to give readers a sneak peak behind the process of producing the Winter 2015 (Vol 54, no. 4) issue of Pull Together. Disclaimer: The comments included in these posts are my own, and represent an "unfiltered" approach to writing about and communicating history. There's a lot that goes on before each member gets their issue, and I want to share every bit of it with you. Read PART I , PART II, PART III, and Part IV.
PART V: My Precious
It's finally over.
Edits have been made. Darlings were killed. Text was moved around, deleted, and put back in again. PDFs were made and zipped. Fonts were cataloged and images were saved and sent off to the printer.Blockbuster Sci-fi movies were viewed in theaters (twice). The next issue of Pull Together is finally complete.
After a very busy schedule leading up to Christmas, it was nice working at the Navy Yard the following week.There was almost nobody there. For a Navy facility that is known for being overcrowded with both cars and people, it was odd to see parking decks nearly empty. I would believe that I stumbled onto a post-apocalyptic movie set if I didn't know better. Either way, I was ready to get back to work and finish the edits to send off to our printer. Thankfully, that process went much smoother than last time. The edits were completed and sent off on the afternoon of New Years Eve. Just in time.
Without giving away "the farm," here is the front cover for the Winter 2015-2016 edition:
It was slightly emotional for me. The second time designing
Pull Together
 went a lot smoother than the first issue that I did. For one, there was no REAL deadline like there was in the fall (part of the program was the McMullen Symposium Awards Dinner program). That certainly helped.
I knew I had to keep the momentum going for the latest one. My biggest fear is to disappoint readers with both design and content. Emotionally, I felt like Frodo after he dropped the one ring into Mount Doom at the end of The Return of the King. It was my precious, but I had to let it go. Thankfully, no Gollum's appeared in the making of this issue, although I probably have resembled his features by the end of it.
It's honestly hard to believe. It's been a week since we turned everything in, and I am still trying to process it. All of those sticky notes that stared in my face at the start of this project are now in the "done" column at my desk. When I began writing about this back in late November, I had many hopes and expectations for the next issue. The main things I wanted to accomplish were the following:
Get a workable draft out by 7 December
Edit draft and send to printer before Christmas
Avoid shedding frustrated tears over said issue
Avoid walking away from computer, cursing incessantly
Avoid losing the entire document due to computer failure (as I had done in the previous issue)
I can say in all honesty that only one of those was accomplished. Thanks in part to a new portable hard drive and cloud-based technology, I did not lose any portion of the current issue. I will not go as far as to equate the production of Pull Together to blood, sweat, and tears, but it was an experience. There were some sweat and tears, but only metaphorical blood.
I think the biggest takeaway I got from this issue was the importance of having a deadline. Deadlines are always put into place, but almost never met. I have always worked within the confines of deadlines in my career. I am generally upset with myself that these deadlines were not met this time around, both for myself and for our loyal members who read Pull Together. For that, I sincerely apologize. Between the sinus infection, the latest IJNH issue, the holidays, family, and a very pregnant wife, I was not able to get the latest issue out by Christmas. I sincerely hope that I can improve on deadlines for the next issue. Fingers crossed.
Please understand that these posts were not an exercise in vanity. It was merely to illustrate what we do for our members. Members are why NHF continues to exist, and why their contributions pin our hopes to a future of preserving and commemorating naval history.
This issue also hits me on another personal level. I don't have many hobbies. When I talked to my wife about it over the holiday break, I came to the conclusion that naval history IS my actual hobby. It is more of a blessing than a curse. I can no longer blame it on the day job, so to speak. I am fortunate to work for an organization that believes in me enough to do things like this short blog series. I truly think that these posts show a true and honest representation of the work done on naval history beyond the halls of academia and in the black and white pages gracing your bookshelves. I hope you were entertained as much as you were informed.
As the NHF Digital Content Developer, nothing is more rewarding than transforming a blank page into something. The page can be a piece of paper, word document, blog post, photoshop file, or print publication. Naval history is historically done by researching and writing on poignant topics. It is also done by designers, office managers, and social media managers. Everything is fair game nowadays, and each person in the NHF family played an equal part to get this issue out.
An architect stares at an empty blueprint. An artist begins a masterpiece with just a blank canvas. A shipwright looks out from a harbor and pictures their grand design floating on the top of the water. Please believe that I am likening myself to an artist, architect, or shipbuilder in any capacity, but you get the symbolism. Everything must start with a blank page, either literally or figuratively. I am pleased with the finished product. For our loyal members, your next edition of Pull Together should be going in the mail as we speak.
Fear not. There are more editions of Pull Together to come. This is an important year for NHF. As you can tell from the front cover, big changes are taking place at NHF. Other projects, both big and small, will crop up throughout the year. If you want to know about everything we are doing, keep a weathered eye on our website and social media pages. If you haven't already, we hope you consider joining the Naval Historical Foundation.