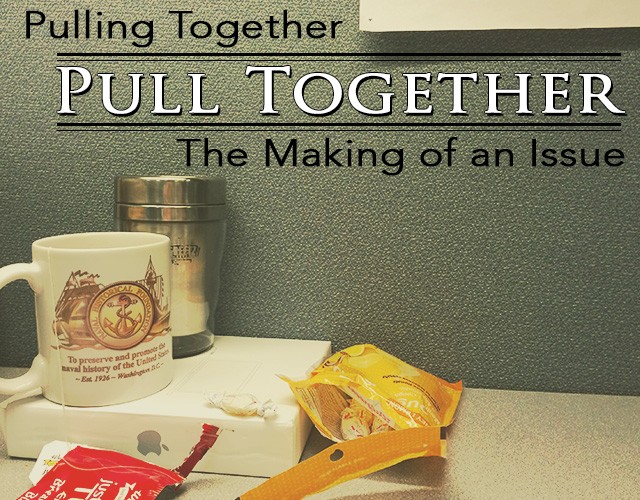 A Blog Series by Matthew T. Eng
With base access at the Washington Navy Yard restricted, I wanted to give readers a sneak peak behind the process of producing the Winter 2015 (Vol 54, no. 4) issue of Pull Together. Disclaimer: The comments included in these posts are my own, and represent an "unfiltered" approach to writing about and communicating history. There's a lot that goes on before each member gets their issue, and I want to share every bit of it with you. Read PART I and PART II.
Part III: Sinus Pressure and a Conversation with Goldilocks
I was making good time for the 7 December deadline for the first draft of the next issue of Pull Together. I WAS. Unfortunately, there is always something that gets in the way…some expected, some unexpected.
After a busy week last week that ended with our Board of Directors meeting last Friday, I was looking forward to a head start on work this past weekend. I had two main things to do: build the December 2015 issue of the International Journal of Naval History (IJNH), and of course, get the draft together for Pull Together. I wanted to advertise the latest edition of IJNH in the next issue, so I knew I had to get it out there beforehand. That was the plan. My ship was steaming at full speed. Then I ran aground. I became sick.
I began to feel bad around Wednesday afternoon. It started as a big headache, so I took some aspirin and kept going. My nose began to get stuffed up on Thursday. My throat felt like a bag of thumbtacks. Aspirin, Sudafed, tea, and cough drops to the rescue. By the time the board meeting was done on Friday, I came home feeling like hot garbage. The medicine increased, and so did my weariness that something else was going on. This wasn't a normal cold.
Things continued to wear me down as the weekend progressed. I was able to finish the new issue of IJNH by Saturday evening. I was doing a lot of work, but not enough if I really wanted to get an acceptable draft of Pull Together in by Monday morning. On Sunday, my wife finally convinced me to go to the doctor. After a long wait at the doc-in-the-box down the street, I was diagnosed with a "severe sinus infection." How serious? They had to give me three different kinds of medications and antibiotics, one of which was Codeine. Needless to say, I was not going to make the Monday deadline. My ship of productivity wasn't exactly decommissioned; I was merely on inactive reserve status. After a day of coughing up unspeakable amounts of things on Monday, the meds began to work their magic this morning. Although I am not feeling at all near one hundred percent, I felt good enough to get some work done today.
The first thing I wanted to tackle was the section recapping the recent VIOLET SKIES conference. After figuring out the design that came from my initial sketch, I tapered down the story to an acceptable length for the full page spread that would also include adequate space for several images from the event. I was confident enough with the design to move on, but I wanted to get a second opinion. Any good historian or history professional knows a second opinion is worth its weight in gold. I went to the only person who could give me an unfiltered and unbiased opinion: my wife Angela. Everybody has an ideal reader that they go to when they want to make sure they are doing something right or wrong. For me, it is definitely her. Although she does not have a background in design, she is an expert of new media and professional writing. Surely, she would give me the news I needed to move on…hopefully. I sent her a message with the draft of the two pages, hoping she would tell me the good news. After feeling like dirt for half a week, this was the kind of validation I needed.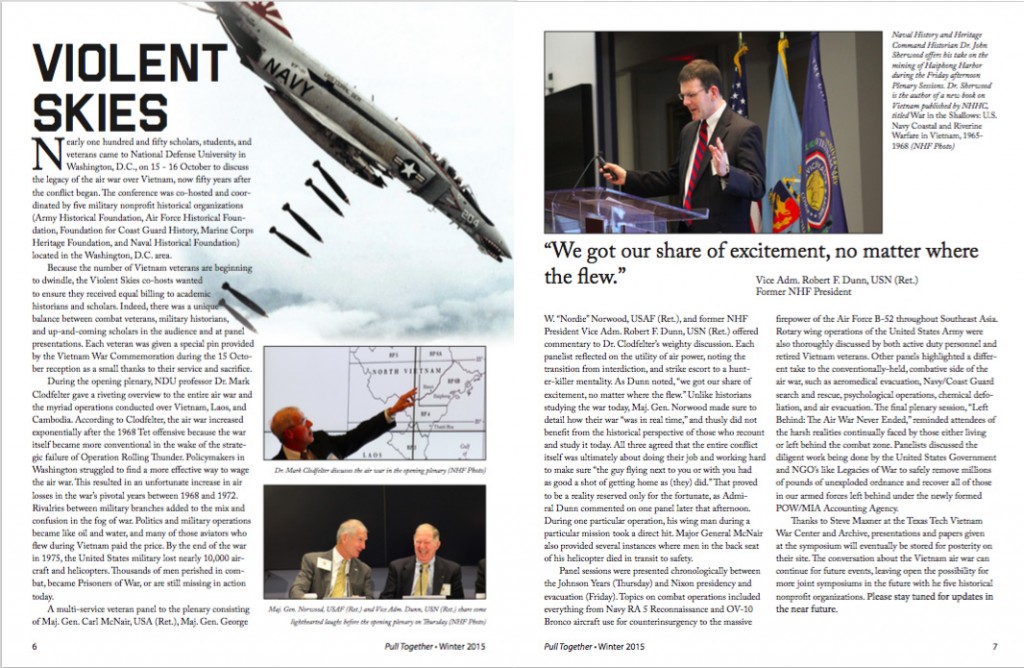 Me: Hey, I sent you the images of the Violent Skies page. Just wanted to double check and see if you like it. Do you like it?
She came back with a one word answer. It was not the answer I was hoping for:
Angela: No.
What was wrong with it? I told her I wanted constructive criticism. I was hoping for a little less, I guess. Then again, this profession is built upon constructive criticism. Take the recent discussion over something I wrote about the McMullen Naval History Symposium. If you can't take the heat, get out of the kitchen.
"I don't like the way everything is aligned," she said. "I think the border around the pictures are distracting." She also noted that, being a full page spread, the text and image should be right-justified on the second page. Roger that. She was absolutely right. I made the changes and sent her the next round.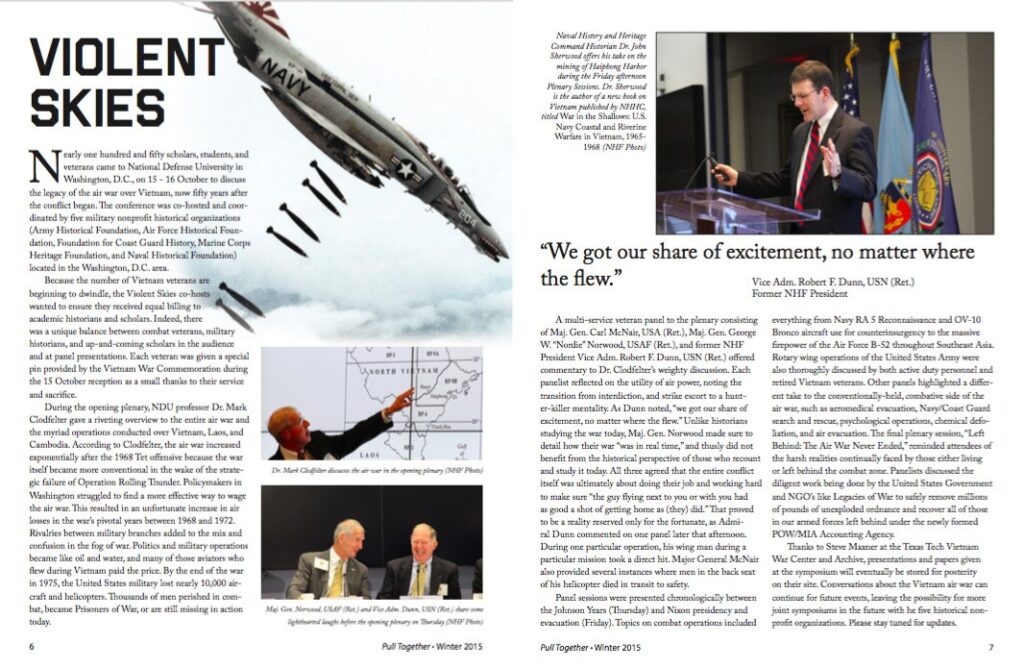 She still didn't like it. The more I looked at it, the more I started to dislike it as well. Desktop publishing is a great way to take any ego you once had and squash it like a bug. "I think the bombs on the first page are distracting from the text," she said. "It's way too close." She also questioned why the large quote did not go with the big picture. The best response I could give was, "I don't know…I just needed to fit it in." Not good enough. The quote, albeit loosely related, should probably match the picture nearby. So I decided to switch the photo and captions of Norwood and Dunn with Dr. Sherwood.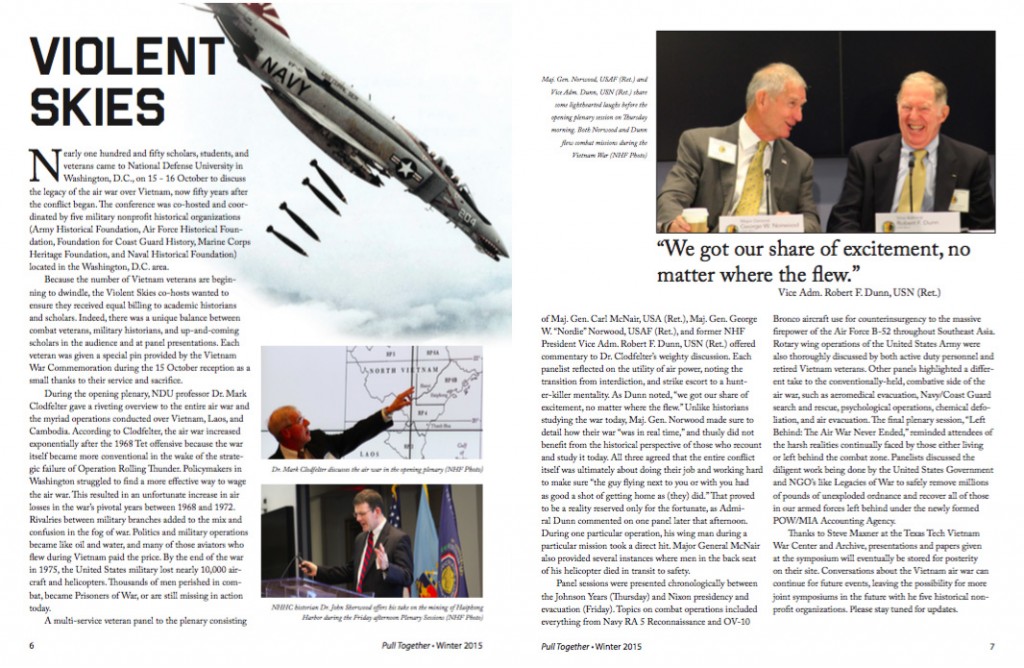 It still wasn't right. If this was a children's story, page 6 and 7 of Pull Together would be the proverbial porridge and Angela would be Goldilocks. What's a bear to do? I was beginning to get frustrated, which was entirely my own undoing. I asked her for advice, didn't i? She was also right, which I also hated. The one thing we love to hear each other say at these moments are those three magical words. No, they aren't "I Love You." Those enchanting, life-giving words are "You Were Right." And she was right. I was beginning to feel like Paul Rudd in a scene from Wet Hot American Summer where he doesn't want to pick up dishes he spilled on the floor.
After a bit of back and forth, she got tired of telling me what to do and decided to sketch it out for me on her lunch break and send me what she thinks I should do with the second page catastrophe.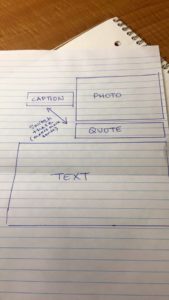 Okay. Got it. I decided to make it even more succinct and included a Dunn-centric photo on page 7. We finally agreed on the final version, give or take a few edits or typos that come with pre-production. She was right. That's why she is my go-to on these matters.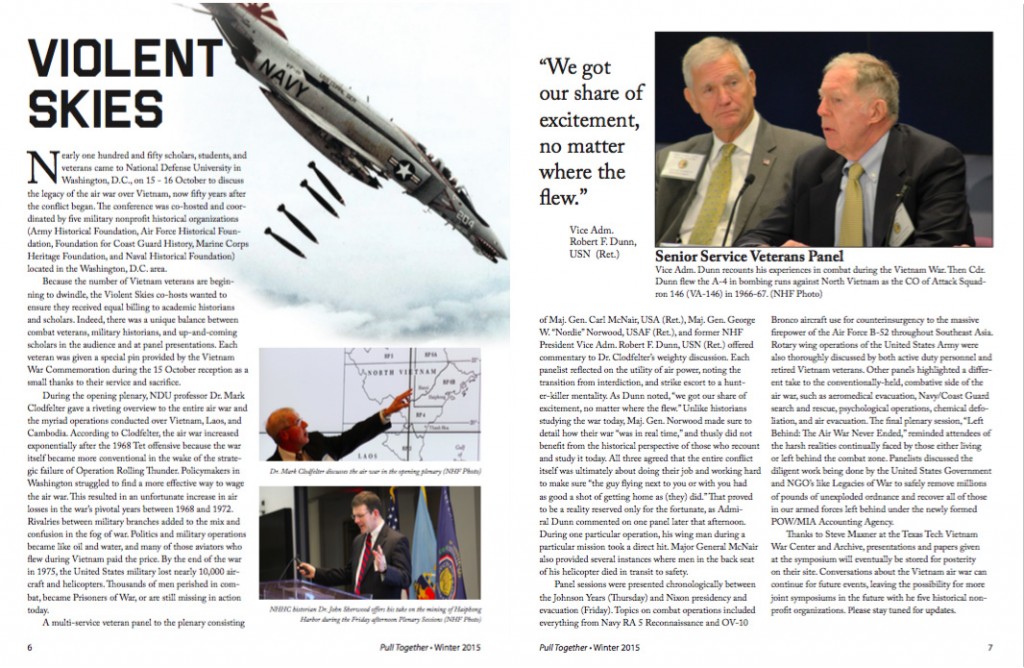 Two pages down. Fourteen more to go. I hope my sinuses clear soon, because I am going to need all my faculties to get this thing out as soon as possible.
---
Want to see the final product? Make sure to become a member of NHF and receive it in the mail just in time for the Holidays!