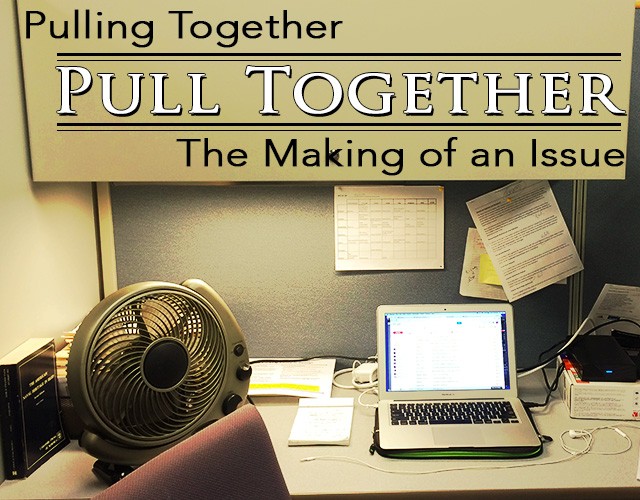 A Blog Series by Matthew T. Eng
With base access at the Washington Navy Yard restricted, I wanted to give readers a sneak peak behind the process of producing the Winter 2015 (Vol 54, no. 4) issue of Pull Together. Disclaimer: The comments included in these posts are my own, and represent an "unfiltered" approach to writing about and communicating history. There's a lot that goes on before each member gets their issue, and I want to share every bit of it with you.

PART II: The Hard Is What Makes It Great
Unfortunately, there aren't many updates. After the fairly long explanation of this blog project in the first post, there isn't much to say. The creative process may be halted by the promise of turkey, stuffing, and gravy in the next couple days. Don't worry – I will have plenty of energy (and leftover turkey sandwiches) to get me through the next few days. I don't think there is any time to necessarily ENJOY the holiday, unfortunately. We have our last issue coming out within two weeks. There will be time for family, surely, but there will also be time set aside to try to get this done. Black Friday for me will be a wholesale on .psd files, edited text, and (of course) more organization. I think that is another byproduct of this profession. The amount of work you do at home is staggering, whether you want to or not. It's just how it is. The historical profession is not a 9 to 5. If you find a job in history that is, let me know. I'll say you will be hard pressed to find it.
I am reminded of one of my favorite scenes in film whenever I talk about stressful times like these:
For us, naval history is what gets inside of you. It lights me up with a sense of hope that SOMEBODY, SOMEWHERE, will get switched on to our great naval heritage. For my colleagues, I know they feel the same way. And so we work long hours in order to do it. Don't let anybody tell you different: it's the hard that makes it great. Anybody else in this field that tells you different is a liar…or they don't have their heart in it. After all, if it wasn't hard, everyone would do it (or study some other niche field in history).
ANYWAYS…
PROGRESS!
As you can see, I have at least started thinking about translating some of the ideas I had on paper into a digital format. Personally, I am not sure how I feel about the Violent Skies layout. I might change it. I'm sure I will change it…two or three more times. The layout for the events page is now two columns instead of three. I simply cannot fit everything in a three column spread for this. Anything less than a 12 point font on these types of publications is usually a personal guarantee that some member will (rightfully) complain. Let's not do that. Nothing is moved over from my chart on the wall in my cubicle yet…but SOON. Did I mention that the fine folks at the Navy Yard finally turned on the heat? It's blowing hot air that is at least 85 degrees, making our office like a sauna. I've needed to use a fan to cool me down these past few days. I'm sure that won't last.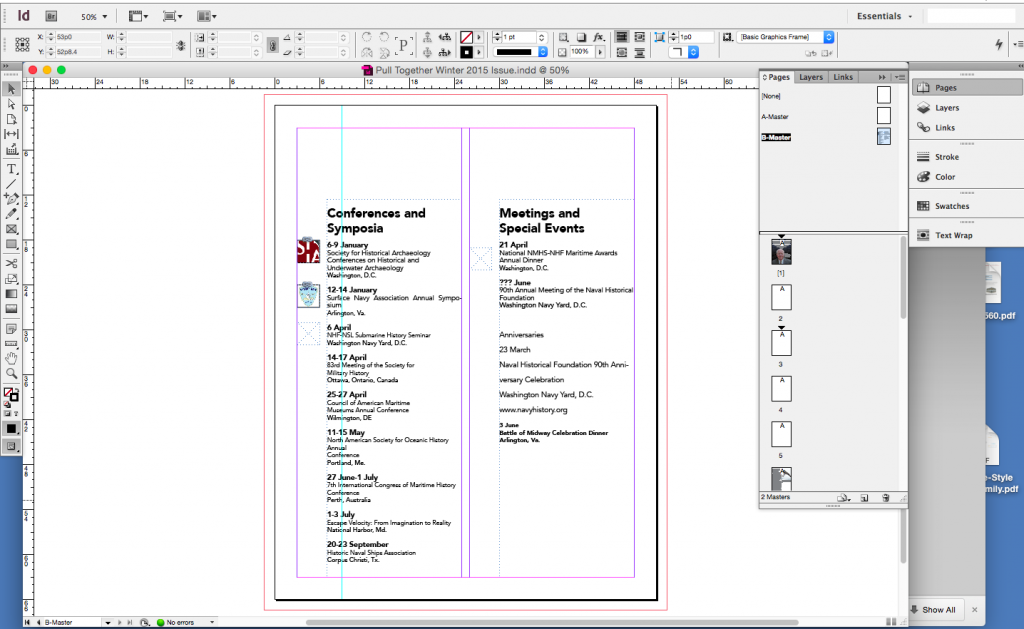 For some reason, I have decided to forego shaving until the project is complete. Is it solidarity? Probably not. I am most likely just lazy. Let's see how long that (or my wife's patience) will last.
Happy Thanksgiving, everyone!