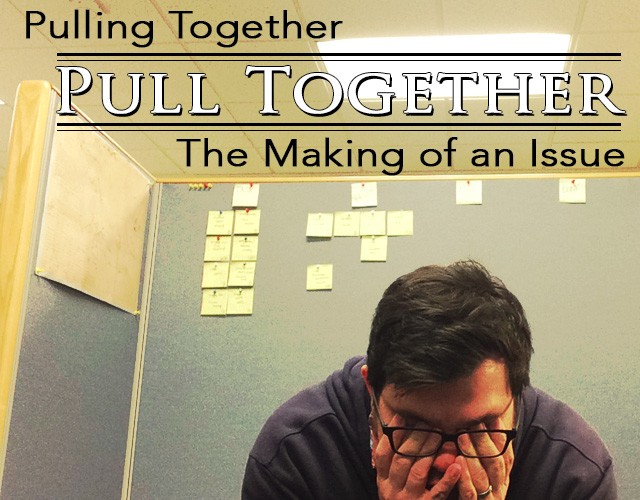 A Blog Series by Matthew T. Eng
With base access at the Washington Navy Yard restricted, I wanted to give readers a sneak peak behind the process of producing the Winter 2015 (Vol 54, no. 4) issue of Pull Together. Disclaimer: The comments included in these posts are my own, and represent an "unfiltered" approach to writing about and communicating history. There's a lot that goes on before each member gets their issue, and I want to share every bit of it with you.
Part I: Murder Your Darlings
What makes naval history…history? How is it transmitted from one person to another? Is it spoken, drawn, painted, photographed, or written down? In the end, how effective was it in reaching the reader?
In the generations that preceded us, these kinds of questions were unnecessary. Naval history, like the pages it was printed on, existed in black and white. Within this niche genre of military history, the original social network of person-to-person communication between naval historians remained small and ultimately familiar. Most found yearly academic conferences and symposia the only way to know who was doing what in the field. That world does not exist today. Communication is not a two way street – it's a superhighway. Information is both infinite and instantaneous. Naval history itself is on the rise. Followers and enthusiasts increase by the hundreds and thousands each day. Need convincing? Take a look at the Naval History and Heritage Command Facebook page for some solid evidence.
Some things about the delivery of naval history are the same. For the Naval Historical Foundation, we still use our publication, Pull Together, as a central way to inform members about what we are doing. That is where most of the similarities stop. In today's media-centric society, every factor listed in the first paragraph have to be carefully factored into the design of naval history-related content in a way that is both appealing and approachable for readers. Social networking surely aids the cause, but the way we present information must keep the readers' attention in print as it does online. Because of this, I want to show our loyal readers, followers, and members how we make history happen in the upcoming issue of Pull Together, from start to finish.
I may need a disclaimer.
This is in no way a forum to amplify or glorify what I do/NHF does. It is not a showcase piece about hard work, even if that surely is a byproduct. ALL of my colleagues in naval history, from the dedicated men and women of the Naval History and Heritage Command to the educators of our nation's historic ships, work hard to make our maritime past come to life. This is not an exercise of vanity; it is a lesson in honesty. I personally think few people are entirely honest about the writing process, especially online. This is as open and honest as I can be. The Foundation is located within the confines of a physical space heavily guarded and difficult to access (albeit possible). In the digital sphere, however, we are completely mobile and acessible. There are no walls separating us from the reader. This "Pulling Together Pull Together" column is one way we can provide everyone outside the walls of the Washington Navy Yard a "behind the scenes" picture of what we do.Before I offend anyone, I need to once again say that these opinions are my own and do not reflect those of the Naval Historical Foundation.
I'm So Excited. I'm So Scared.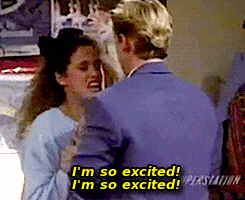 This will be my second foray into designing Pull Together. I am both excited and scared at the same time. Why? I am cautious going into this next issue because of my experience putting together the Summer 2015 issue of Pull Together. About 75% through my inaugural design project, my hard drive inexplicably crashed. I lost almost all of my files and had to do two weeks worth of work in two days to meet a publication deadline. After a few frantic days fueled gallons of coffee, I managed to work with the staff to get the issue out just before the McMullen Naval History Symposium. With several new portable hard drives at the ready (both physically and in the cloud), I think am ready for this next issue.
I'm learning desktop publishing as I go along. Like I said before, this is only the second time doing this for me. It's stressful, but completely worth it. Even in my capacity as the "Digital Content Developer" for NHF, it's a daily challenge to make sure I keep up to date with content development. There were no history classes to prepare me for this. No professor armed with elbow pads told me about time management and the necessity of using images of at least 300 dpi as embedded Photoshop files for print publications. Looking back, I wish there was! I study magazines and watch tutorial after tutorial online to make sure I give NHF members the best possible edition of Pull Together. It takes dedication. It takes patience. It takes hard drive space. Above all, it takes coffee; lots and lots of coffee. The stronger the better.
With a completion deadline set for the beginning of the first full week in December (ironically, Pearl Harbor Day), we have a lot of work to do. Let's begin.
How it Starts
It all starts with an idea. Well…several ideas that will make up a short magazine either 16 or 24 pages long. To use some naval terminology, we are building an issue from the keel up.
Pull Together remains the brainchild of our historian, Dr. David Winkler. Each quarterly issue begins with him generating a broad outline for its contents. His thoughts on paper turn into a short discourse over emails. Content comes soon after. In a few days, or over the course of a week, something will begin to formulate on the computer screen. That is where I come in. It is my goal to take the words and turn the into something informative and pleasing to the eye. It's truly an art form, for which I am a mere apprentice. Surely, I am not Barclay or Reuterdahl. My broad brush is a Macbook trackpad. With a little passion and a lot of patience, I will hopefully put the ideas together in time for our steadily approaching deadline.
We are planning to include a lot of information in this current issue. With only sixteen pages to fill, it is going to be a real challenge. We know we want to have several main components for this issue. Without spoiling it:
1. Chairman Message (More to follow on that)
2. Recap of Violent Skies Conference
3. Focus on Historians – several articles therein
4. Promo 2016 naval history events, conferences, and symposia
From the initial email listing a general idea and order to the pages, I set out to put down my own table of contents for the issue. Within two days, the order and content for each page has changed twice. It will change again. Organization is key, and my handwriting skills are as neat as I am organized. Luckily, this dog can learn some new tricks (thanks Google Drive!). I am finding that organization in the beginning is key. It's already gotten to the point that I am typing out daily organizational notes and reminders, almost in tears from listening to Adele's new album at the same time. I find it helps set the mood. My wife always says that a craft or sewing project is never complete until you bleed for it. I'd say for history, nothing is done until you've wept over it.
Unfortunately, other things get in the way. We are a small staff forced to master the subtle art of multi-tasking. There are emails and emails about said emails. Most have nothing to do with the next Pull Together issue, but are still nonetheless important and need to be answered in a timely fashion.  Some are informative, while others are simply redundant. Then comes the meetings about the emails. From there, the real work will be done for the issue: drafting, editing, redundancy, proofing, editing, redundancy. It's an endless cycle until final copy Nirvana is fully achieved. Don't worry: we are a LONG ways away from that. Did I mention things get redundant?
Along with the current Pull Together project, we are also putting together the final touches on a board meeting next month and working towards raising funds for a case to house a WWII mannequin inside the National Museum of the United States Navy. I am also working with Dr. Winkler to put out the next issue of the International Journal of Naval History, which I am also the digital editor of. To top it all off, my wife just bought me the video game Star Wars Battlefront. I would like nothing more than to blast some scruffy nerf herders all night, but I can't. Time is of the essence (but I will find time to play the game, obviously).
One of the tasks I worked on today was condensing a five page summary article I wrote on the Violent Skies symposium back in October into two short pages. Using images I took from the event in the layout will make space even more valuable. Time to cut. If you told my eighteen year old self as a freshman in college that I would struggle to cut down writing to only a few pages, I am sure he would laugh profusely. I often think of a quote attributed to William Faulkner whenever I have to edit a piece down: murder your darlings. I grabbed my red pen and spent the afternoon trimming the fat.
I used the pen profusely to slice and dice my way through the full article. It hurts. They are your darlings, after all. I carefully tapered it down to just over two pages. Although it's not enough, it will do for the time being. It's way too early to set anything in stone. Perhaps I am worried about the overall design of the issue itself. The design needs to be catchy, which will require a large portion of space on the front of the two-page spread. Finding that I'd had enough of the "Mask of Red Pen Death," I spent my last few minutes of work sketching out the physical appearance of some of the more challenging page layouts, including the events calendar and Violent Skies piece (shown above). By the end of the day, a rough outline is prepared to work with in the upcoming days. Full speed ahead.