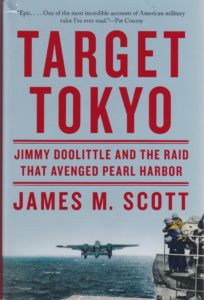 By James M. Scott, W.W. Norton & Company, New York (2015)
Reviewed by John R. Satterfield, DBA
In the spring of 1992 at my local airport, two B-25 bombers landed and taxied to the FBO to refuel. I found out that they were headed to Washington, DC, for a low-level flight down the Mall to honor Jimmy Doolittle and the Tokyo Raiders on the 50th anniversary of that extraordinary mission.  Doolittle was still with us, 95 at the time, and attended the event, a measure of the nation's gratitude for an act so audacious and unmistakably heroic that it immediately assumed iconic standing in U.S. military history, retaining that prominence ever since and still a point of shared pride for the U.S. Navy.
Hundreds of books and articles have covered the raid in infinitesimal detail, but this new volume, meticulously researched and documented, brings everything together in style.
Author James M. Scott, a former journalist and Nieman Fellow at Harvard, captures the reader early and maintains suspense even though the outcome is well known.  Although Target Tokyo is filled with facts and encyclopedic in scope, it is a pleasure to read and hard to put down, despite its nearly 500-page length.
The raid was World War II's truly combined operation from the start. The Navy conceived, helped to plan and then trained a group of all-volunteer Army Air Forces crews to handle takeoffs from a carrier deck. The raid itself involved two Navy aircraft carriers and a small armada of warships with orders to steam close enough to Japan to launch 16 modified B-25B Mitchell medium bombers from the flight deck of Hornet, on its first Pacific deployment, to attack Tokyo and nearby cities.
After detection by Japanese fishing trawlers serving as picket vessels, Vice Adm. William F. Halsey, naval commander of the operation, ordered Lt. Col. Doolittle, a reserve officer recalled to active duty and an aviation legend in his own right, to take off, although the fleet was 750 miles, nearly 200 miles farther than planned, from Japan.  The early takeoff in poor weather and high winds, guaranteed that the aircraft had insufficient fuel to land safely at Chinese airfields.
All the raiders dropped their bombs, and Scott documents their damage plane by plane.  Not surprisingly, because of Tokyo's densely packed population and sprawl, much of the destruction and many of the casualties were civilian, a fact ignored by Americans and emphasized by the Japanese.
The impact of the raid had enormous implication for World War II. It cemented the Japanese Navy's desire to extend the Empire's defensive perimeter and take Midway, a move that turned out to be the disaster that began Japan's inexorable Pacific retreat. Just as important was Japan's vengeance on China for harboring the Americans. Japanese forces tortured, raped and killed thousands of Chinese civilians for nothing more than living in areas through which the Raiders passed during their escapes. Many towns in the vast coastal region that helped the aircrews were left in ashes.
Only one raider managed to land by diverting, against orders, to Vladivostok in the neutral Soviet Union. The crew was interned for over a year, enduring sub-zero winter temperatures and subsistence diets until they were smuggled across the Iranian border to freedom. The other fifteen aircraft crashed in China. Most crews bailed out, but a couple attempted to ditch near the shore, causing serious injuries to several crew members.
Overall, mission personnel were lucky. Of the 80 crewmen, three were killed, one when his parachute failed to open and two by drowning when their plane ditched. The Japanese captured eight crew members who suffered unspeakable torture and abuse from their captors. Three would be executed by firing squad and one died from starvation. The remaining four weighed less than 100 lbs. when liberated, and one of them suffered such violent delusions that medical authorities had to place him in a straightjacket. The remaining crewmen, one of whom lost a leg because of his injuries, survived and eventually came home.
Doolittle himself thought the mission was a failure because he had to bail out of his aircraft and assumed all others had crashed the same way.  Sitting by the wreckage of his bomber, he said he expected a court-martial and demotion on his return.  His flight engineer, Sgt. Paul Leonard, disagreed. "They're going to make you a general and give you the Medal of Honor," Leonard argued. He was right.
After returning to the U.S., Doolittle skipped a grade and was promoted immediately to brigadier general. In the Oval Office, President Roosevelt pinned the Medal of Honor on his uniform as his wife, flown from her California home, looked on. Doolittle went on to become the Army's only reserve four-star general, commanding the 8th Air Force in Europe. He passed away in 1993, aged 96. Thirteen of the 80 Doolittle raiders, including the prescient Paul Leonard, were killed in action in World War II. The surviving 60 fliers celebrated their achievement at annual reunions, and most enjoyed many such gatherings, living to ripe old ages.  At this writing, two Raiders remain – Doolittle's copilot, Dick Cole, who will be 100 years old on September 7, and David Thatcher, 94 on July 31, who helped to save injured crew members from his ditched aircraft, Ruptured Duck.
Target Tokyo is a delight, capturing the epic character of the raid, and more importantly, the 80 brave men who carried it out.

Dr. Satterfield teaches military history and writes about military affairs and weapon systems.