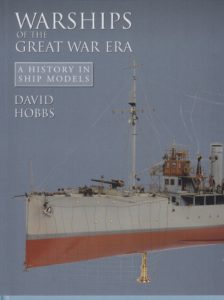 David Hobbs, Seaforth Publishing, Barnsly, England (2014)
Reviewed by Michael Wynd
Esteemed naval historian David Hobbs has authored a very valuable publication on the warships of the First World War using ship models from the collection of the National Maritime Museum in Greenwich. This is part of a series of publications using ship models to offer detail in a way that models only they can. As a historian working in a museum, I can personally attest to the value of having a ship model as a reference when researching ship and technical histories. Having a 3D model is exceedingly useful when compared to 2D photographs, plans, or drawings.
This publication focuses on the warships of the First World War using both builder's models and those made by private individuals. The chapters cover battleships, battlecruisers, cruisers, destroyers and submarines. There is a chapter on Q-ships, CMBs, minesweepers, gunboats and ship's boats. Finally, there is a chapter on merchant shipping, which includes hospital ships.
This is also a technical publication and is a very valuable addition to a research collection. In each chapter, there are technical aspects of the class of vessels illustrated using models. Subject areas include superstructure of battleships, guns and gun mountings, stowage of ship's boats, minesweeping equipment, and features of destroyers and light cruisers.
Throughout, there are sharp and detailed colour images of the ship models supported by the succinct and authoritative text. This is a very accessible work for both the novice and expert on aspects of warship design in the First World War. It is an essential reference work for research purposes and should be part of any naval library's collection.
I commend David Hobbs for a fine publication that is an addition to the history of warship design and a valuable addition to the historiography of the First World War at sea.

Reviewed by Michael Wynd, Researcher National Museum of the Royal New Zealand Navy – Devonport Auckland New Zealand