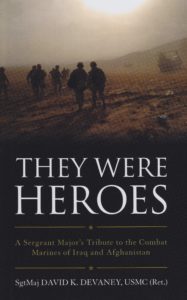 By Sergeant Major David K. Devaney, U.S. Marine Corps (Retired). Naval Institute Press, Annapolis, MD (2015)
Reviewed by Charles H. Bogart
This book is not for the fainthearted to read. Within this book, we encounter fifty-one men, who with the exception of one individual, are all enlisted. The title of the book, however, is slightly deceiving. Included within the book are stories of U.S. Navy Corpsman who served side by side with the Marines. Twenty-six of these stories take place in Iraq and twenty-three in Afghanistan. Two stories concern two enlisted Marines who served a tour as Casualty Assistance Calls Officers and who were later killed in combat. The fifty-one men included in this book represent a cross section of the United States – three are immigrants and the others were born in states ranging from Rhode Island to Hawaii.
The author follows the same format in documenting what these fifty-one individuals did in order to protect their fellow Marines. The reader is first introduced to the individual, then his fellow Marines tell in their own words what happen, and then if a medal was issued to the individual being highlighted the individual's medal citation is presented. A number of Marines and Corpsman we meet within the book are not the holders of one or more of the many different types of medals of bravery that the United States awards, but are instead posthumous recipients of the Purple Heart. As one reads each of the accounts, one is struck by the randomness by which heroic actions gain official recognition.
The author does an excellent job bringing the memories of those who survived the action to life. The intensity and confusion of each encounter recorded is vividly written so that the reader is drawn into the battle. What is of interest that the majority of the actions recorded in this book are incidents of random violence perpetuated by individuals who are often indistinguishable in dress from the surrounding general population. I highly recommend that everyone should take time to read Lieutenant General John Kelly's tribute to Corporal Jonathan T. Yale and Lance Corporal Jordan C. Haerter.
This is an excellent book about men in combat. The book should stand the test of time and become one of the essential books concerning Marines in combat. I highly recommend purchasing and reading this book and then donating it to your local high school library. The only negative comment I can make about the book is a lack of pictures of the individuals highlighted.

Charles H Bogart is a frequent contributor to Naval History Book Reviews.