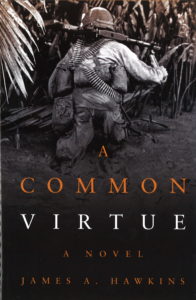 By James A. Hawkins, Naval Institute Press, Annapolis, MD (2014)
Reviewed by Colonel Curt Marsh, U.S. Marine Corps Reserve (Retired)
A Common Virtue is the first novel by author James Hawkins, a former Marine who served during the Vietnam War. The story is about a Marine officer and a young enlisted Marine who lead in the establishment of the Marine Force Recon organization. The story flows fairly well and the combat scenes are vivid and well told.
The story starts with Captain Rivers, an experienced leader of Long-Range Reconnaissance Patrols (LRRP) that were experiencing high casualty rates and not obtaining the intelligence that was desired. His plan is to reduce the LRRP size from 10 Marines to something less and to use more stealthy tactics. He recruits Lance Corporal Jackson, a talented but young combat veteran who he quickly promotes up to Sergeant. They embark on their first patrol together as a two man team which turns out to be productive but becomes rather hairy. They eventually end up with four man recon teams. The story then follows Jackson who is awarded a field promotion to Second Lieutenant and is sent back to Quantico to attend Officer Candidate School. He then returns right back to Vietnam to assist in setting up 3rd Force Recon.
I had a flashback to W.E.B. Griffin's Brotherhood of War and The Corps series when Jackson meets up with another candidate, Bill Williams, who turns out to be very rich, as his family owns some fancy hotels including the Hotel Delmonico in New York City. (A similar plot device used by Griffin.) They become good friends and Williams seems cut out to be a good Marine officer, but this story line is not developed beyond their OCS experience. I presume this is a set up for a follow on book and possibly a series.
Hawkins used another plot devise that bothered me. He correctly references some of the real senior Marine officers in Vietnam at the time, but he also creates characters that are a little too close to real people. For instance, Jackson helps save a "Major Kruzak" during a large assault by the North Vietnamese Army on a fire base. Major Kruzak's father happens to be a Marine Lieutenant General. Do not confuse him with the real future Marine Commandant Charles Krulak and his father Lieutenant General Victor Krulak. There are other instances of this conflation of real people and fiction.
I initially questioned the overly familiar banter and the constant use of some slang (such as "REMF") between the officers that didn't quite ring true to me as a post-Vietnam Marine officer. I passed to book over to a friend who served in Vietnam as a Marine infantry Captain in the same area and at the same time covered in this novel. Here are his comments:
"I found the novel, A Common Virtue, by James A Hawkins to be a riveting book that
held my attention from the first chapter through to the end. From my prospective as a Captain with the 26 Marine Regiment at Khe Sanh 1968, I found this Novel to be very accurate. The names have been changed, but I recognize many of the characters such as Colonel Lownse played by Colonel MacDonald. This book is accurate from beginning to the end. Captain Rivers and Sergeant Paul Jackson are very real Marines. The Mustang Marines like Sergeant Jackson were very highly respected Marines in Viet Nam. This book takes me back nearly 50 years to the days I spent at Khe Sanh with my good friend Lieutenant Jack Blize a Mustang Marine as tough and brave Marine as you will find and to Sergeant Nichols a fearless sniper in my unit. I could picture their faces as I read this wonderfully exciting novel."
Col. Jim Leslie, USMC (Ret.)
I did have a few "inside baseball" criticisms, such as the employment of Close Air Support (CAS) and Naval Surface Fire Support (NSFS). He also misidentifies the "Blacksheep Squadron" as VMFA-214 flying F-4 Phantoms rather than as VMA-214 which flew the A-4 Skyhawk. This may be a minor point, but it reveals some lack of research. Regardless, this is an excellent novel that covers an important period in the Vietnam War where the Marines were adjusting tactics to meet the challenges of a determined enemy. It clearly received the "stamp of approval" from one who was there and also provides the story of how the Marine Force Recon units were established. The primary characters are well developed and Hawkins seems to be setting the stage for a follow-on book or series. I do hope he avoids reusing other writer's plot devices. However, with that minor criticism, I highly recommended this book for anyone interested in getting an intimate perspective of combat Marines in the Vietnam War.

Colonel Marsh is a frequent contributor to Naval History Book Reviews