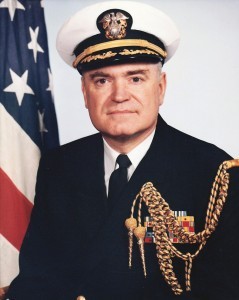 Last year, we posted a story on the passing of long-time friend of NHF and Pearl Harbor survivor Captain Victor Delano, USN (Ret.). We have received updates on Captain Delano's funeral arrangement at the end of this week. The following information comes from Kate Delano Jahnig and the Delano family.
To read Captain Delano's story on the NHF blog, go HERE.
The funeral will be held on Friday, May 1, 2015 at Ft. Myer and Arlington National Cemetery.
The service will begin at the Old Post Chapel in Ft. Myer promptly at 9:00 a.m. Everyone is asked to be there by no later than 8:30 a.m.  You will be required to use the Hatfield Gate entrance to Ft. Myer on Washington Boulevard at South 2nd Street, Arlington.  The address is Hatfield Gate, 2nd Street South, Fort Myer, VA 22211.  Following the service, we will proceed to the gravesite for the burial service with full military honors.
We are planning a gathering at the Chevy Chase Club after the service.