"It is a real war call- the urgency is evident [. . .] as an assurance of appreciation of our community of their patriotism in this emergency we must engrave their names in a permanent record." (The Baltimore Sun, 3 April 1917)
Several weeks ago, the Foundation received an email from a woman seeking out information about her grandfather who served in the U.S. Navy during the First World War. We often receive emails and phone calls from members and individuals wishing to find information about their loved one's service, especially in wartime. Maura Taylor's case, however, was different.
Maura Taylor's grandfather, Michael Kolakowski, holds a special place in U.S. Navy and Maryland state history. While researching his wartime service record, she came across two 1917 articles published in the Baltimore Sun that mentioned him. One article stated that his name was included on a tablet commemorating the first 800 U.S. Navy volunteers for America's war effort against the Central Powers. That tablet still hangs today inside the Maryland State House in Annapolis.
The Sun article explained more about her father's Navy connection:
"Four navy recruits who have had special places served for them in the Honor Tablet for that 'first 800,' signed up yesterday. The four have just been discharged from hospitals after undergoing serious surgical operations to quality them for a place among the 800. They have been under hospital care an average of 15 days each." (Baltimore Sun, 8 May 1917)
Michael Kolakowski was one of those four recruits. Ms. Taylor contacted us to know more about the honor tablet and its relationship to her grandfather. Could it shed light on his time in the Navy during the war? Why was he hospitalized before enlisting in 1917.
All we had was a name and a city. That's when it started to get interesting.
A Call to Arms
Michael Kolakowski enlisted in the United States Navy on 5 May 5 1917. His enlistment came one month after President Woodrow Wilson formally declared War against Germany on 6 April. In reality, Michael chose to serve around the same time that Wilson asked Congress. As previously stated, his name is included on a tablet in the Maryland State House in Annapolis honoring the first 800 sailors to enlist during World War I.
The campaign for Navy enlistees for the war began in early April. The 3 April edition of the Baltimore Sun ran with the headline "First 800 Recruits Going Down To Fame." The article mentioned "a shibboleth" of men meeting at the U.S. Naval Academy the previous day to make a plan to recruit 800 individuals for the Navy by 20 April. Maryland wanted to be proactive and have men "at the ready" in the event that President Wilson declared war. Dr. Frank J. Goodnow, then President of Johns Hopkins University, served as the committee President.
A total of 15,000 prospects were sent out and coordinated by Navy recruiter Lieutenant P.L. Wilson around the state of Maryland. Wilson and the committee even called for a support drive "to arouse the congregations to the country's need and the immediate demand for Maryland to uphold its traditions." Recruits initially came in as a slow trickle and slowly filled up thanks to awareness campaigns. To sweeten the deal, the Sun article also mentioned that the first 800 to enlist would be enshrined in state history on a commemorative tablet to be hung at the Maryland State House in Annapolis. There were also incentives to have the family members of enlistees cared for in the event of their passing overseas. Most sailors during the war died from disease, not combat. The Sun also noted several recruits who signed up to become the first 800 but had otherwise "failed to make good and enlist."   Men like Kolakowski were given a "last chance to redeem themselves."
Somewhere between the call to arms and the 20 April deadline, Kolakowski declared his intent to join up and enlist. Why the discrepancy in time between his intent to enlist and his actual date? As it turns out, Mr. Kolakowski was in the hospital. The Sun article Ms. Taylor pointed staff to corroborates the story. It seemed his health was not as strong as his patriotism. Why then was he hospitalized?
No solid evidence exists as to why Mr. Kolakowski was hospitalized prior to enlisting. We turned the question to several noted historians of medicine. "Hernias, tonsillectomies, and dental work are certainly possibilities," said Bureau of Medicine and Surgery historian Andrew B. Sobocinski in an email. To Sobocinski, the notion seemed "plausible" that these types of medical conditions would warrant surgeries in order for an enlistee to undergo to be deemed healthy enough to serve.

Further evidence is found in the period documentation. The 1917 Annual Report of the Surgeon General of the Navy showed that hernias and defective teeth were two of the principle causes for rejection. The reason why most men were rejected to serve in 1917? Weight. Over 31,500 men did not make the cut in 1917 because they were UNDER weight to serve.
By the second week in May, Kolakowski was on his way to begin his short career in the United States Navy. His full military record was found in the papers of the Maryland War Records Commission here at the Navy Department Library in Washington, D.C. From this war record, we are thankfully able to construct a story and timeline of Seaman Kolakowski's service. We can provide a frame of reference to Michael Kolakowski's time in the Navy. The following is his official war record included in the 1933 report. The original punctuation and spelling were kept for posterity:
423 S. Durham St. Baltimore; 17 Years 4 mos.
USN 5/7/17 app sea; sea 2c 6/23/17; sea 4/1/18
Awaiting orders; Recg ship Norfolk, VA 5/24/17; Rec ship New York, NY 11/30/17; USS Zeelandia 5/6/18; Rec ship Washington D.C. 9/13/19; Hon disch 9/18/19
Kolakowski's War
Kolakowski enlisted in Baltimore, Maryland. According to records of the Maryland War Records Commission, 770 individuals from Baltimore city proper enlisted in the United States Navy during World War I. His address points to him living in the Upper Fells Point neighborhood of Baltimore, better known today as the recently posh "Fell's Prospect" area.
Michael soon moved from his humble Baltimore surroundings to the bustle of wartime activity in Norfolk, VA. He waited on a receiving ship (floating barracks) until traveling to New York to await his first and only ship, troop transport USS Zeelandia. The former Dutch passenger ship carried troops across the Atlantic Ocean to the European Theater under the Navy's moniker in the late months of the war. It's only sighted activity against a hostile force came in August 1918, when the ship reportedly spotted a small pack of German U-boats near their convoy. Kolakowski was on board at the time. The ship spent the end of 1918 and majority of 1919 returning troops back to the United States. Seaman Kolakowski left Zeelandia on 13 September 1919 where he waited to be discharged five days later.
Michael's time in the Navy was over. His name lives on today on the tablet commemorating Marylanders' call to serve. The tablet itself was unveiled inside the Maryland State House rotunda on 13 January 1920. Several honored guests were in attendance, including Secretary of the Navy Josephus Daniels and Maryland Governor Emerson Harrington.
NHF Executive Director Captain Todd Creekman, USN (Ret.) recently traveled up to Annapolis and took a moment to take a picture of the tablet. The tablet only tells a portion of the story. Kolakowski is one account amongst the countless others who swore to defend nearly one hundred years ago.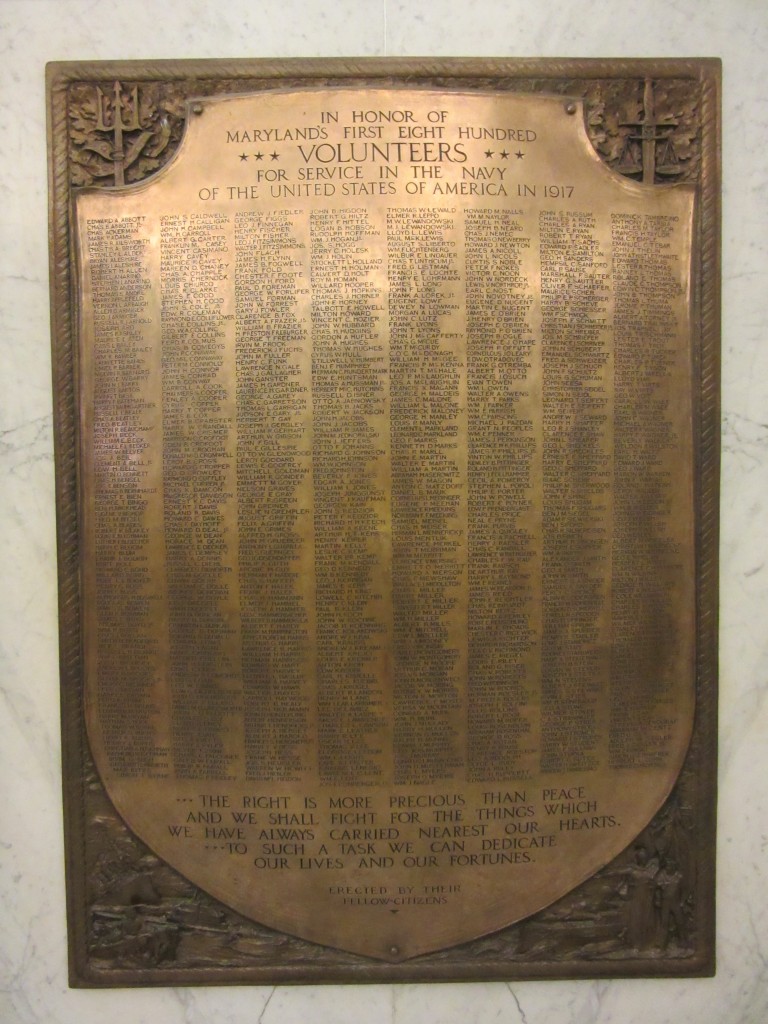 Special Thanks to Andrew B. Sobocinski and Dr. Bill Dudley for providing some background information for this story.
---
Source Information:
"Final Drive for 800: Over 280 Men Needed and time is Up Tomorrow Night." The Baltimore Sun, April 19, 1917.
"First 800 Recruits Going Down to Fame." The Baltimore Sun, April 3, 1917.
"Tablet is Unveiled Honoring First 800." The Baltimore Sun, January 14, 1920.
United States Navy Bureau of Medicine and Surgery. Annual Report of the Surgeon general, U.S. Navy, Chief of the Bureau of Medicine and Surgery. Washington, D.C.: Government Printing Office, 1918.
Zihlman, Frederick. "Increase of the Military Establishment." The American Flint 8, no. 8 (June 1917): 1-4.