Ditty Bag: Collections of the Naval Historical Foundation
An Artifact and Collections Blog Series
Ditty Bag: Imperial Japanese Navy Collar Tabs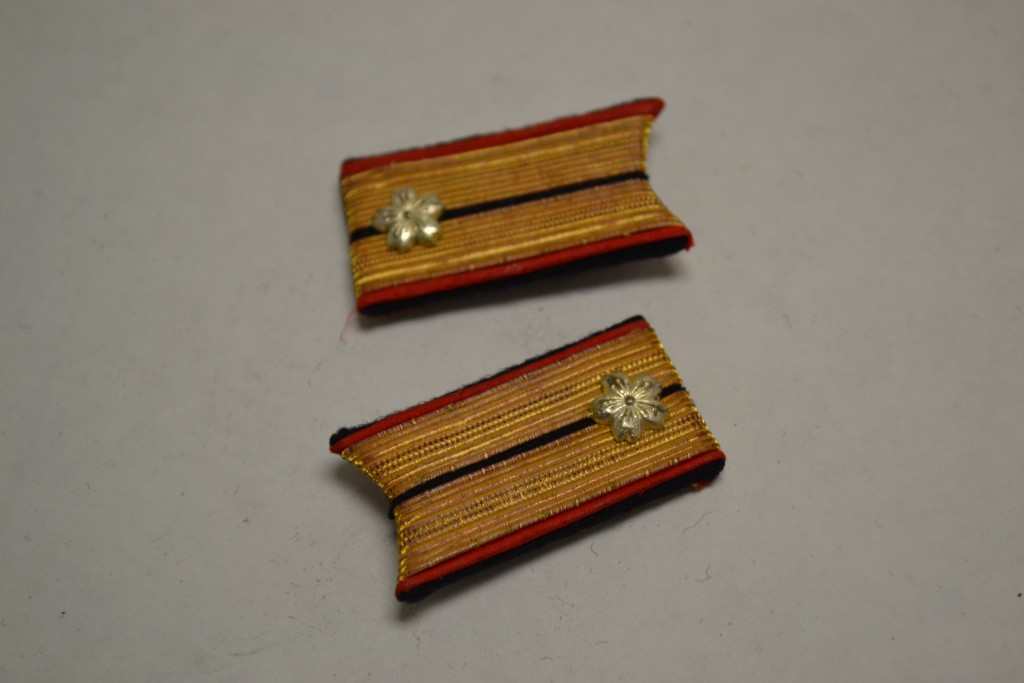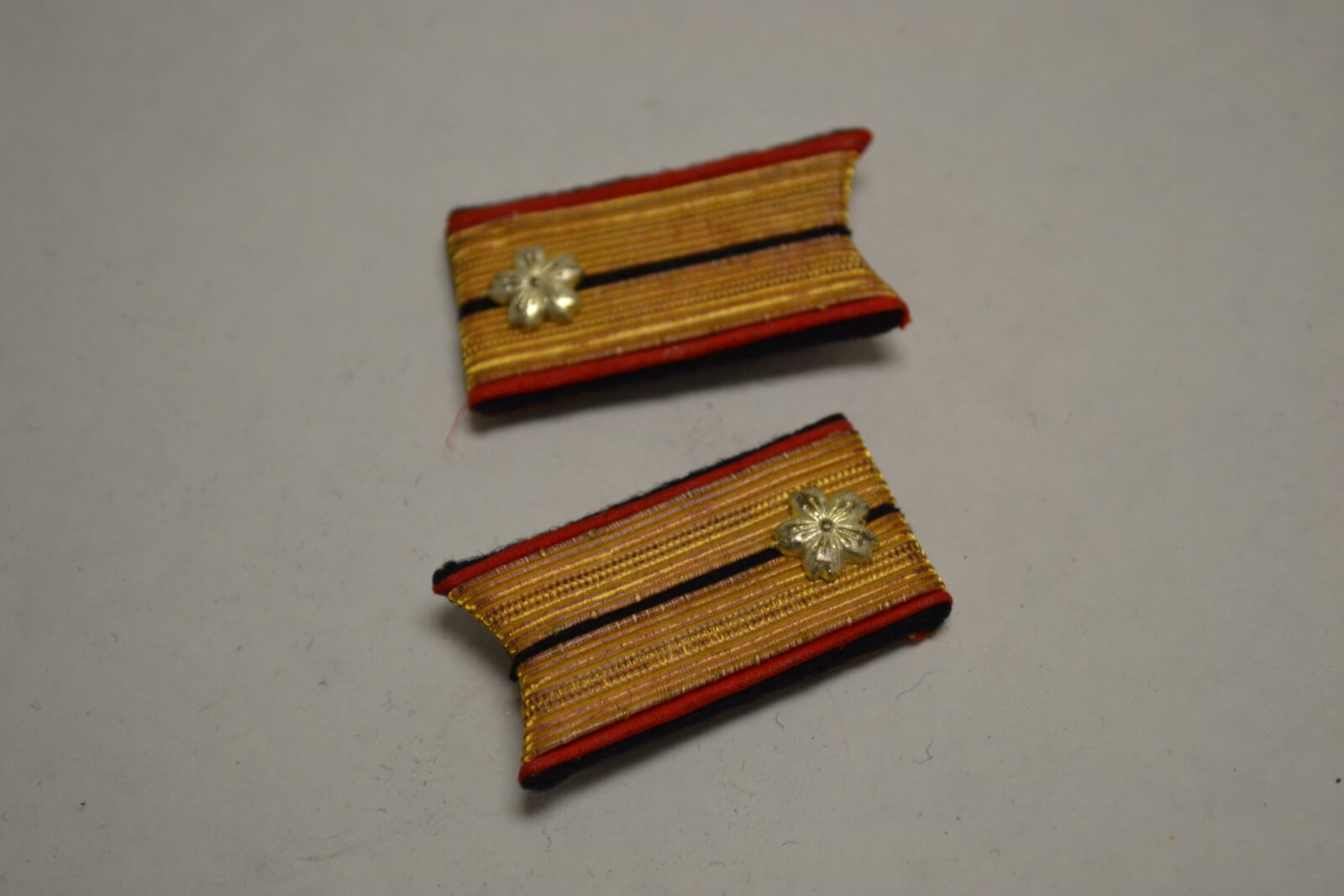 The Imperial Japanese Army and Imperial Japanese Navy shared rank titles during World War II. Ranks for the military ascended from Ensign (Shōi) to Sub-Lieutenant (Chūi) all the way through to Grand Marshal (Dai-gensui). In order to distinguish between the two branches, the respective branch's name—rikugun (army) and kaigun (navy)—was stated before the rank designation. The Imperial Japanese Navy used a series of colored ribbons and cherry blossoms to indicate a sailor's rank.

Lower ranks were designated with one golden ribbon surrounded by two ribbons of the rank's respective color. Medium grade ranks displayed three, thin ribbons of the rank's respective color on a gold field. High ranks did not exhibit any ribbons, rather they outlined a gold filed with the respective rank's color. Cherry blossoms were added to indicate a higher rank within each of these three grades. Color tabs for the highest rank, Grand Marshal, exhibited a gold field with three cherry blossoms outlined with a dark blue color.
The Naval Historical Foundation received a large donation of Imperial Japanese Navy Collar tabs in 1972. The NHF# 1972-030-06 donation included collar tabs for 10 different IJN ranks.
Imperial Japanese collar tabs are visible in Hayao Miyazaki's recent film The Wind Rises, which follows the story of Dr. Jiro Horikoshi, one of Mitsubishi's chief engineers during World War II.
Bibliography 
Jane, Fred T. 1904. The Imperial Japanese Navy. London: W. Thacker & Co.
Nakanishi, Ritta. 2001. Nihon no Gunsō: Bakumatsu kara Nichi-Ro Sensō. Tōkyō: Dai Nihon Kaiga.
Nila, Gary. 2012. Japanese Naval Aviation Uniforms and Equipment 1937-45. Oxford: Osprey Publishing Ltd.
Rosignoli, Guido (1980). Naval and Marine Badges and Insignia of World War 2. Blandford Colour Series. Link House, West Street, Poole, Dorset, BH15 1LL: Blandford Press Ltd.
———————————–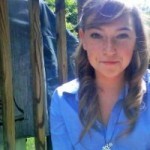 Ditty Bag: Collections of the Naval Historical Foundation is a new artifact blog written by Emily Pearce, NHF Middendorf Curator. She will periodically write posts about various artifacts and accessioned items in the Naval Historical Foundation collection and their impact on naval history. You can view all of the collections highlighted in Ditty Bag on our Flickr page HERE. To contact Emily or to inquire about NHF collections, please email Emily Pearce at epearce@navyhistory.org.

For previous releases of Ditty Bag, Please go HERE.