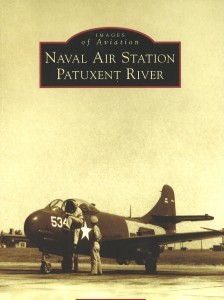 By Mark A. Chambers, Arcadia Publishing, Charleston, SC (2014)
Reviewed by Richard P. Hallion, Ph.D.
This pictorial history is a useful and appealing introduction to what naval aviators—specifically, test pilots, flight test engineers, test crews, and technical support staff—have accomplished over the last seventy years at one of the world's finest and most historic flight test centers. Author Mark Chambers, a technical writer for the National Aeronautics and Space Administration at the NASA Langley Research Center (another legendary Tidewater flight research site), has assembled an impressive collection of visual images capturing various programs and test areas through the years.
Readers will find themselves marveling at the wide range of programs and activities captured in the images he selected. While some are well known—for example, Marine Maj. Gen. Marion Carl's late-career formal portrait (p. 17), or an air-launch of the second Douglas D-558-2 from its Boeing P2B-1S (Navy B-29) mothership during its contractor flight test program (p. 83), most are not. Casually paging through this volume, one encounters captured enemy aircraft undergoing technical evaluation, experimental V/STOL and high-speed designs, prototypes of operational fighters, attack aircraft, and maritime patrol airplanes, early efforts to develop "drone" guided missiles, and a plethora of rotary-wing craft and other, more specialized designs.
This is very much an aircraft-centric book. Although there are some photographs of people and places, the vast number of images simply show a succession of aircraft, running from the heyday of the piston-engine propeller-driven airplane through the transition into the jet age, and the transformation of aircraft design from subsonic straight-wing aircraft through early swept-and-delta wings, to the variable-geometry Grumman F-14, and on to more exotic canard, fly-by-wire, and hybrid designs made possible by the marriage of conventional aeronautical technology—the technology of structures, propulsion, controls, and applied aerodynamics—with the powerful Moore's Law-driven computer.
Books in this series are primarily photographic histories. Chambers has done an excellent job captioning his photos, giving the reader ample information and a solid context within which to review and ponder the illustration under examination.
Where this book is less successful is in telling the story of Pax River and the legendary people tied to it. One searches in vain for images, for example, of the Test Pilot School, its students, and its classrooms, or for any indication of how the center grew over time reflecting the needs of the Cold War, and then experienced a major reorganization when Naval Air Systems Command moved from Arlington, VA to Lexington Park, MD. There are no organizational tables, charts, or data compilations on budgets, work forces, etc.
However, these are not criticisms—the publisher and author are quite "up front" about their work being a photographic history (albeit primarily one driven by aircraft images), and it is certainly a well-researched and well-presented work that anyone interested in naval flight testing will want to have on their shelf. But however satisfying it is, Chambers' excellent introduction is just that—an introduction—that whets the appetite for its author, or someone else, to prepare a full-length detailed history of Pax River and its extraordinary contributions to aerospace.

Dr. Hallion is a retired Air Force historian with extensive service to various government agencies.