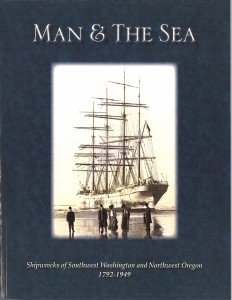 By Wayne O'Neil, Midway Printery, Long Beach, WA (2013)
Reviewed by Charles Bogart
The author uses a broad-brush definition of what constitutes a shipwreck vessel. The book covers not only ships lost from grounding, touching bottom, effects of weather, fire, and collision, but also ships that suffered non fatal hull damage from grounding and touching bottom, or were salvaged after running ashore. The history and fate of over 200 ships are chronicled in Man & the Sea. Each ship receives anywhere from a third of a page to three pages of text. The book thus can be read at random, as the only connection between the stories of the individual ships detailed in the book is that they were involved in an incident on the Columbia River or along the nearby Pacific Ocean coast.
Most of the ship stories told are supported by drawings or pictures, and a map locating the incident. The front of the book has a wonderful map of the lower Columbia River and of the Pacific Ocean coast to either side of the river. The author has annotated this map with the location of the various physical features central to the ship loses covered in the book's text.
As one might expect, the majority of ships discussed within this book are sailing ships that voyaged over the waters off of Oregon's and Washington's Pacific Ocean coast between the years 1845 and 1920. Most of the sailing ship incidents recorded by the author occur as the result of weather, generally in the form of fog or storms. Steam powered ships are also covered with most of those recorded being engaged in the coastal lumber trade in the years before 1940.
The author takes time to pause in his text to cover the construction of the Columbia River's North and South jetties and the efforts of the local Lifesaving Service. There is also an extensive glossary of nautical terms included at the end of the book. The book contains a few minor errors of fact; the most noticeable is in reference to USAT Arrow, which wrecked off the Columbia River in 1947, as USS Arrow.
The book is well written and illustrated and great for a bedtime read. It would make a great Christmas or birthday gift for the person just getting interested in the lore of the sea. As an aside, the book is printed on paper salvaged from part of the deck cargo Hawaiian Planter lost overboard on 24 January 1965 while crossing the Columbia River bar.

Charles H. Bogart is a frequent contributor to Naval History Book Reviews.