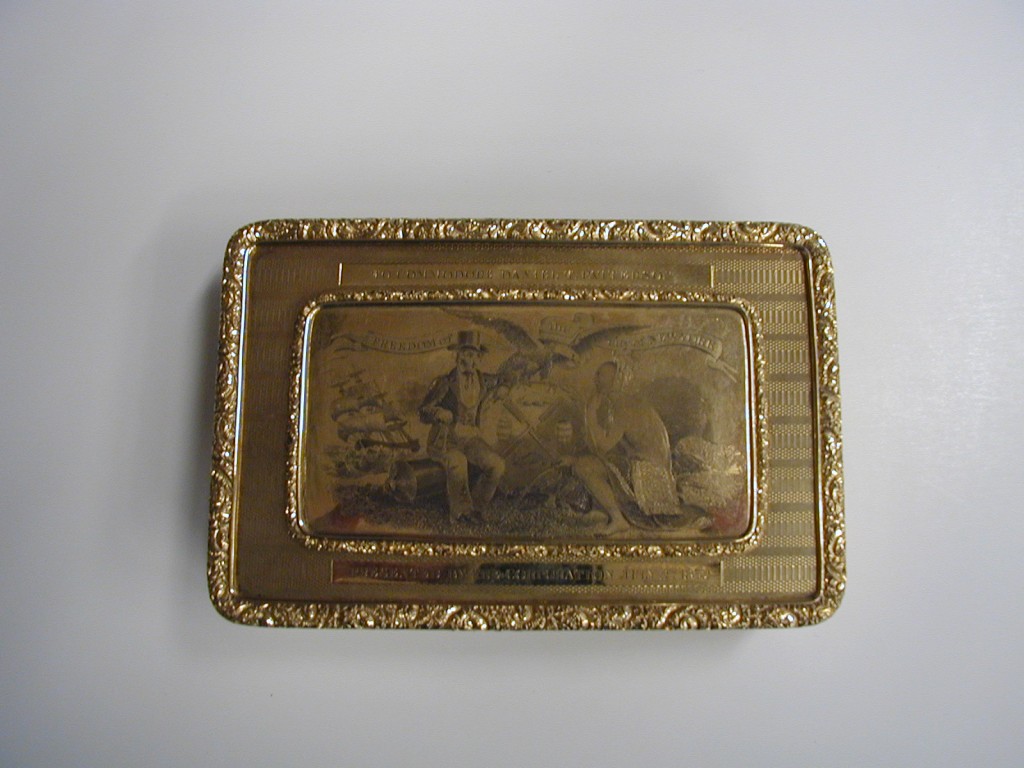 The image above shows a gold freedom box presented to Commodore Daniel T. Patterson by the Common Council of New York City in July 1832 (NHF Accession #1960-043). Commodore Patterson was the senior American naval officer at the Battle of New Orleans, which reached its conclusion 200 years ago today.
Gold freedom boxes are extremely rare artifacts. Recipients received the box as a high honor on behalf of the city, and are subsequently bestowed the "Freedom of the City" in kind. Patterson received this prestigious gift for his actions during the New Orleans campaign during the War of 1812. According to a short biography included in NHHC's Dictionary of American Naval Fighting Ships, Patterson began preparations months before Andrew Jackson defended the city. "The victory resulted as much from his foresight and preparations as from Jackson's able fighting," even earning the admiration of Jackson himself.
The boxes measures 4 ¼ inches long, 2 ¾ inches wide, and ¾ inches tall. The cover inscription reads:
"TO COMMODORE DANIEL T. PATTERSON.
FREEDOM of the city of NEW YORK
PRESENTED BY THE CORPORATION JULY 2nd. 1832″
Patterson died in 1839 in Washington, D.C. He is buried in Congressional Cemetery in the district.
The freedom box presented to Commodore Patterson is now on display at the Winterthur Museum in Delaware. The item was donated from the Foundation to the museum in 2005.