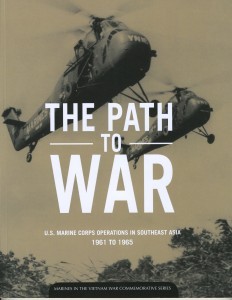 By Col George R. Hofmann Jr. USMC (Ret.), Government Printing Office, Washington DC (2014)
Reviewed by Charles Bogart
This book is part of Marines in the Vietnam War Commemorative Series. As with all USMC histories, this book is both a history and a lesson learned publication. The title is a little misleading, as the author starts his story in 1954 when the USMC sent its first advisor teams to Southeast Asia. The heart of the book covers the years 1961 to 1965 as Marines deployed Vietnam, Cambodia, and Thailand.
The author takes care to incorporate Mao Tse-tung's "Three-Phase Model for Protracted War." Thus, as the USMC builds its presence in Southeast Asia, we are provided with a discussion of the Communist insurgent forces response to this situation within the content of Mao's Three Phase Model. The author also discusses the political aspects of the war. It is clear that one of the problems facing the U. S. policy makers trying to contain the Communist insurgency in Southeast Asia was the lack of an overall military strategy. American leadership policy decisions are all made in response to an event and the ordered response operation is hampered by failure in civilian-military coordination.
In 1962, USMC forces assigned to Vietnam ceased being just advisors and began to engage in combat operations. The first USMC combat units to arrive in Vietnam were helicopter units assigned to transporting Republic of Vietnam troops conducting operational sweeps in enemy territory. This was a learning period for USMC helicopter pilots. What was before a theoretical problem was now for real. The learning curve for these Marines was brutal. Many technical improvisions developed during this time were later incorporated into USMC helicopter deployment doctrine. Among the challenges that were not considered before USMC helicopters had deployed to combat was the means to remove a wounded pilot from his seat for treatment while airborne?
The year 1962 also saw the first deployment of USMC combat ground forces to Southeast Asia. The Marines were not deployed to Vietnam, but to Cambodia. Within Vietnam, Marines undertook aerial transportation for Republic of Vietnam troops and provided technical support to the developing Republic of Vietnam's own Marine Corps (RVMC). The book is not only a history of USMC in Vietnam, but also of the RVMC. We follow within these pages the development of RVMC from an adhoc force to an elite military unit. However, those Marines wounded and killed in better were the crews of the Marine helicopters flying in support of Republic of Vietnam troops conducting search missions to located enemy bases. These Marine helicopter crews soon began placing armor over critical engine components and arming themselves with crew served defensive weapons. In time, these defensive weapons became offensive weapons used to clear a landing zone. It is obvious that during 1962 the manual on how to deploy helicopters in battle was being developed by the Marines in Vietnam.
In February 1965, as Viet Cong attacks intensified, the first USMC ground forces arrived in Vietnam, the 1st Light Antiaircraft Missile Battalion. Engineers and other support units soon followed. On 8 March 1965, the Marines of Battalion Landing Team 3/9 were landed at Da Hang. These Marines were the first of what would grow to a Marine Division with supporting air wing engaged in day to day combat in Vietnam.
I highly recommend this book to all interested in the development of helicopter combat tactics and how mission creep can change the best of plans. My only negative comment concerning this book is a lack of an index and a glossary of abbreviations used. I look forward to the other books in this series.
Charles H. Bogart is a frequent contributor to Naval History Book Reviews.