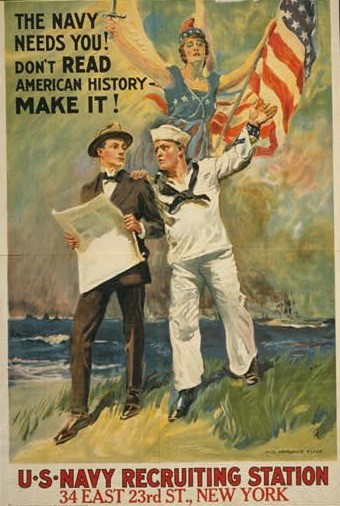 What forces a man or woman to enlist in the Navy? What compels them to accept a commission as a naval officer? Where does that kind of dedication come from? When the sounds of gunfire can be heard on the horizon, why do they selflessly march towards it and meet it head on?
Many of us will ponder each of those questions today. Veterans Day is a time when Americans can reflect on the service and sacrifice of our nation's military men and women.
For historians, it is vital for these questions to remain open-ended. If we had all of the answers now, what need would there be for studying history?
When defeat seemed inevitable, what compelled John Paul Jones to stick it out against HMS Serapis?
What forced John Lawson to continue the fight against Tennessee at Mobile Bay, even though he was badly wounded?
What forced CDR Evans to take on a Japanese battleship of David and Goliath proportion during World War II?
When all seemed hopeless, how did our prisoners of war keep the faith while waiting in camps in Vietnam?
I don't want to talk about how great and wonderful the Navy is or was. From my experience talking to veterans, the experience continues to stay at an even keel. What matters to me is that you veterans did it.
It's all about stakes. At the time of the American Revolution, independence was at stake. During the American Civil War, slavery was at stake. For World War II, the preservation of democracy hung in the balance. Today, the Navy endeavors to remain a global force for good, while at the same time remaining the pointed tip of the spear in the name of what is right and just.
Thankfully, our stakeholders are our veterans – Those who looked danger head on and answered the call. Today is for those who consistently choose service and sacrifice over themselves.
There are many things you can do today if you are a veteran. There are countless deals on meals around the country. Maybe somebody will buy you a free drink. For vets, coffee at Starbucks is free tomorrow, as is the film Fury. That is only a small portion of thanks we can give to you. We owe you our lives.
Congress originally wanted to raise an Army in an emergency. There was always a need for a Navy to be present. As an island nation, we rely on the Navy to protect us at home and abroad. This cannot be done without the hard work and dedication of our sailors. The United States Navy will continue to be there so long as our veterans remain as the core and elite set of truly American men and women.
In the most humble way (and with most humility), I want to personally thank every man and woman who has served in our armed forces. For going above and beyond the call of duty. To do what I cannot. I salute you. We salute you. Thank you for your contributions to naval history.