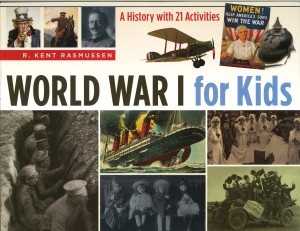 By R. Kent Rasmussen, Chicago Review Press, Inc., Chicago, IL (2014)
Reviewed by Jim McClelland
Kent Rasmussen, a well-known author who has written or edited more than twenty books, recently produced World War I for Kids. He is best known for the award-winning book, The United States at War, as well as many volumes on Mark Twain.
Rasmussen's purpose for writing this book is seen directly in the title. He strikes out on the difficult path of putting together a revealing and complete overview of World War I in near textbook fashion. From the first to last chapter, the reader takes a front row seat into a world at war. Included in these chapters is the complicated politics of each involved country, the life of the soldier crouching in the trenches, the sailors serving on their ships, and the families at home supporting and sacrificing for the war effort. World War I for Kids is broken down into twelve well-researched and factual chapters. Each chapter offers many different segments of war. The men, weapons, and machinery give the reader an honest look and feeling of being over there.
Throughout the book, the reader will also find twenty-one different "hands on" activities that enhance the learning experience. These activities are designed to allow the student to experience different aspects of the war such as the making of a model gas mask, a parachute, a trench periscope, and many more. There are other activities that help to show what families at home had to deal with, such as rationing food items like sugar or the writing of patriotic songs.
For most students studying history, I hear complaints that the "subject is so dry," and "all we do is memorize!" Also heard is, "what does something that happen a hundred years ago have to do with me now". This is certainly not true with this book. Rasmussen made this book interesting and relevant, whetting the student's appetite for more. The author had the foresight to provide a list of websites, allowing the student to further explore any aspect of the war he or she wishes. A glossary is included to aid in the understanding of words and phrases that might have been lost to time. In short, the student reader will find this book well written, interesting, and historically accurate. This book truly has brought the experiences of World War I to life. It is important that young people study history and learn the affects to future generations so they can learn from mistakes made in the past to prevent world wars from happening again.

Jim McClelland combined his love of history with 40 years of reading, studying and researching world events from 1900 to 1945. He specializes in Royal and German naval warships and strategies. McClelland currently lives in the Cleveland, OH area, working at a social service agency as an Internship and Volunteer program coordinator.