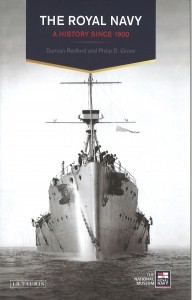 By Duncan Redford and Philip D. Grove, I. B. Tauris, London, England (2014)
Reviewed by Charles Bogart
The book under review is the fourteenth book within the A History of the Royal Navy series sponsored by The National Museum, Royal Navy Section. The authors of this large book attempt to do the impossible: tell the story of the Royal Navy over the past 110 years. The pages of this history therefore do not offer a detailed history of the Royal Navy. It instead seeks to highlight various events that affected the Royal Navy between the years 1900 and 2010. The authors only devote sixty-three pages to World War I. The authors, limited by space, provide only a broad-brush look at that conflict. The authors do highlight most of the major activities of the Royal Navy during that world conflict, but numerous smaller critical events are ignored. Despite the above caveat, the book is a fascinating and enlightening read.
The book is divided into six sections, from the development of the Royal Navy at the end of the 19th century through the current world unrest. The chapters on the pre-World War I era and the interwar Navy contain a wealth of information concerning the development of a fleet, which the Admiralty used to gain control of the seas.
The authors devote ninety pages to the period from 1950 to 2010. The authors provide a well-rounded and balanced account of the trials and tribulations inflicted upon the Royal Navy by Parliament during the last half of the 20th century, and the operations and campaigns they successfully accomplished despite a continual depletion of ships and manpower. The authors' post-World War II account of the Royal Navy presents remarkable facts on British Defense policy. It is interesting that, of the United Kingdom's three armed services, the Royal Navy constantly suffered the greatest loss in the funding of capital projects during the budget battles of the Cold War era, yet is used increasingly as an instrument of power projection by the British government.
The book is well written and its text is supported by a number of maps, charts, photos (some in color), footnotes, and a bibliography. To understand the full measure of some of the events recounted in this book that cover the Cold War Royal Navy, one needs to acquire another of the books in this series, A History of the Royal Navy: The Nuclear Age.
This book is a great introduction to the naval events of the 20th century as seen through the eyes of the Royal Navy. It would serve well as a textbook in a survey course of world events, or as a vehicle to introduce the budding historian to naval events that still influence our lives today.

Charles H. Bogart