By Matthew Eng
I thought my experience at this year's 10th Maritime Heritage Conference would be like every other history conference. Most conferences roll by mechanically on autopilot. A variety of presentations and panels on historical subjects form the crux of discussion. Hotel food is eaten. Conversations are made. Cards are exchanged. Hands are shaken. Logo-laden swag is picked up with feverish intensity. This year's conference, however, felt different. It felt special. All it took was one little comment to completely change the way I view these semi-annual gatherings.
At this year's 10th Maritime Heritage Conference, I presented a paper on Navy baseball during World War II. The panel I presented with was titled, "Hampton Roads Under the Influence of War." Thankfully, the panel occurred at the opening of sessions on Thursday. I could get it out of the way and enjoy the rest of the conference without those pesky "presentation jitters."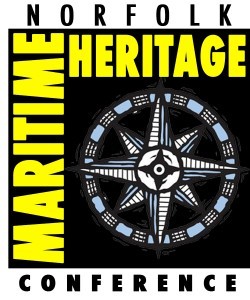 I got to the panel room fifteen minutes before it began on the fourth floor of the Marriot Waterside Hotel in Norfolk, VA. My fellow panelists were already there. After some pleasant exchanges of excited conversation, we sat down and waited for attendees to populate the large conference room.
The empty room soon filled up with familiar faces.
Before our session began, Corey Thornton, Curator of History for Portsmouth Museums, leaned over to me and said, "Wow, it's like Comic-Con." I don't think he was being completely serious. I chuckled quietly to myself left it at that. We went through with our program and presentation. About an hour later, during a panel on the latest developments with USS Monitor, the idea popped into my head. The statement got me thinking. The more I thought about it, the more I started to believe that Corey was right. I found myself at the end of the day trying to find ways the 10th Maritime Heritage Conference DID NOT draw similarities.
What does that event in San Diego have that the 10th MHC doesn't? Let's go down the list:
Exhibitors representing cutting edge information about the industry? CHECK.
Special exhibits and demos honoring relevant items of media interest? CHECK.
VIP parties and special "meet and greet" events? CHECK.
Attendees looking "out of uniform" from their normal attire. CHECK.
Awards ceremonies honoring the lifetime achievements of industry leaders? CHECK.
Let's be honest: Comic-Con is just a large-scale fan convention. In today's digital age, there is little to separate these concepts save scope and subject matter. Are we not all fans of naval and maritime history? The 10th MHC is a convention and a community on the smaller, yet vitally important, scale. Like Comic-Con, the event is multi-genre and multi-platform. You can hear about Civil War naval history one minute and move into a discussion on the creative ways we are discovering and recovering shipwrecks in another. Everyone at MHC is a star in his or her own right. Most of these men and women work quietly out of the limelight of the American public. Yet they are transcending what stars of television, film, and comic book culture can do – they are promoting and sustaining our rich maritime heritage for generations to come. They embody what the conference's keynote speaker. Dan Basta said about the state of the maritime community: "It is more about projection than protection."
You might see a big celebrity talk about their recent projects at Comic-Con, or an influential artist who is paving the way for groundbreaking graphic novels and short stories. In this field, the best and brightest stars are here to tell us about their research and providing updates of their institution's latest developments. Sure, there isn't anybody dressed in costume – well, not really. Scuba divers and underwater archaeologists attending are surely out of their element in suits and ties.
The conference reminded me why I got into the business of naval history in the first place. It might be why WE ALL got into this business. It's why you, constant reader, are still reading this instead of going back to Facebook. This information moves you. It fascinates you. Like waves in water, the ebb and flow of the business change constantly through time, allowing many of us to be swept away in its current. No two situations are the same. Every instance is an opportunity to grow. We want to further the field and advance our nation's understanding of the wonderful and exciting world beyond our island nation. This conference gives everyone an opportunity to shine. No waiting in line for hours to talk to a movie star for thirty seconds. At MHC, you get real face-to-face interaction and meaningful conversation with some of the greatest minds of naval and maritime history. What more can you ask for? In my opinion, MHC transcends any Comic-Con. I hope you were like me and skipped San Diego for Norfolk.
To all the conference attendees, exhibitors, panelists, moderators, and organizers: Thank you for taking time out of your busy lives and sharing the wonderful work you do. You all have adoring fans in our field. I might be the biggest one. They say if you do what you love, you'll never work a day in your life. In that respect, I'm still looking for employment. Thank you all for keeping me jobless.