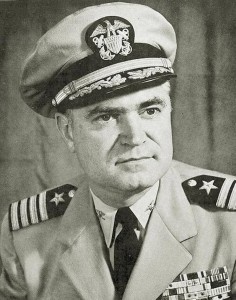 The Naval Historical Foundation lost a good friend and dedicated member last week. Victor Delano, U.S. Navy Captain (retired) and Pearl Harbor survivor, died on Monday, August 25th, at Casey House in Rockville, Maryland. Delano was 94 years old.
Delano was born into a family legacy of Navy Veterans. His father, Captain Harvey Delano, was a World War I naval hero and naval supervisor to the Port of New York. Victor Delano graduated "with distinction" from the United States Naval Academy in 1941. Delano's first assignment was aboard USS West Virginia, stationed at Pearl Harbor during the Japanese attack that December.  At the time, Victor Delano was a young gunnery officer on the ship. He briefly described his experiences on the morning of the 7th in a 2011 USNA/AAF interview during the 70th anniversary commemoration, including his connection to a naval legend:
"I had breakfast. I was on my way to my room to change to go ashore [. . .] and a Marine came down from topside down a ladder and said 'we're being bombed.' I believed him. I didn't hear any General Quarters, so I headed towards my battle station, which was in the plotting room."

I got into central station and got my men up an armored wiring trunk that goes from central station up to the conning tower. I got up there – there was the captain ripped open by a fragment from the Tennessee – we tried to get morphine, but we were not allowed to have it. Ether didn't work. Others came and got the Captain off the bridge. I got off and had to jump down to turret two and turret 1 – then I got off and swam ashore.

Quite unexpectedly, the stewards mate, Miller, showed up and I still don't know where he came from, but he got there. LT (jg) White arrived on the bridge. I assigned them to two machine guns which were just forward for the bridge – They shot for a while [. . .] and then they departed to help with the firefighting."
Victor Delano was as much a part of naval history as he was an advocate. A member of the Naval Historical Foundation since 1961, Delano cared deeply about the preservation of naval history, working closely with the foundation over the years. Delano also served as a treasurer for twenty years during his time with NHF. Delano was instrumental in commissioning a model of Bonhomme Richard, John Paul Jones's flagship during the American Revolution, now on display in the National Museum of the United States Navy.
The Naval Historical Foundation is currently working on compiling his oral history. Victor Delano will be interred at Arlington National Cemetery at a date to be determined. We will make sure to keep our members informed as more information surfaces.
Fair Winds and Following Seas, Victor.