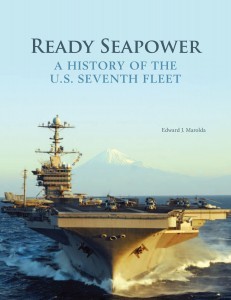 By Edward J. Marolda, Naval History & Heritage Command, Washington, DC (2012)
Reviewed by Paul W. Murphey, Ph.D., CDR, CHC, USN (Retired)
Ready Seapower is an attractive book. Its coffee table format and design make it appealing for guests to flip through and comment on. The large selection of well-chosen pictures and illustrations fit well with the text. Each chapter has a special inset that usually highlights a ship, often an aircraft carrier or flagship of the Seventh Fleet. These can very easily stand up on their own. Persons who played a prominent role in Seventh Fleet history and operations are treated with respect and admiration.  The author worthily acknowledges the contributions of the distinguished core of naval historians to which he belongs. It is an altogether pleasure to hold in one's hands and read.
The book encompasses the life and work of the Seventh Fleet from its inception in World War II (1943) up to its involvement in peace and war from its homeport in Yokosuka, Japan through 2010. The author, Edward Marolda, is noted for his extensive knowledge and writing on the role of the United States Navy in Asia and the Pacific. While other historians could also have done well with the task, Marolda has the background and insights to make this an engrossing story of one of the Navy's most vital elements.
Each chapter begins with a concise statement of what follows in each chapter, ending with an equally concise summary conclusion. Persons, events, and places are all woven together in a seamless story. The author is at pains to vividly demonstrate the vital role the Seventh Fleet has played in times of war, including World War II, the Korean Conflict, the war in Vietnam, and the Gulf War. Marolda also highlights the role of the Seventh Fleet in lesser conflicts, particularly in the Far East, such as Operation Paul Bunyan in Korea and the difficult engagements against terrorism and piracy.
The Seventh Fleet helped maintain peace by serving as a type of American ambassador of goodwill. This was accomplished not only in extensive far-flung humanitarian efforts, but also in overt diplomatic missions as well, particularly with China. Seventh Fleet units participate in more than a hundred exercises each year, many of them with other nations such as Japan, Australia, New Zealand, South Korea, the Philippines, Thailand, and more recently, India. This serves as evidence of the Seventh Fleet's place in multinational cooperation. They are commited to maintaining open sea-lanes for commerce and protecting national interests as well as the safety and security of its allies. The Seventh Fleet has often been the lead partner in performing the delicate dance with Chia.
Histories can be written in many ways. If the author wrote for other historians or naval scholars, he would have provided the documentation requisite to that task. This is not, however, a book for that audience. Therefore, the citations are more general than specific. An author is acknowledged as the source of a quoted statement, but the actual work in which that citation appears is not given. While this is adequate for its purpose, I would have liked the citations as endnotes.
Dr. Marolda was able to spend some time in face-to-face interviews with key players in the Seventh Fleet, enhancing the book's authenticity. He is an accomplished and skilled historian familiar with the records essential for writing such a history and bringing records to life through personal acquaintances with those making that history.
Since most of my naval career was spent on Seventh Fleet ships, I found the book especially meaningful. I began active duty with Destroyer Squadron Fifteen and was on the Lockwood (FF 1064) for Operation Paul Bunyan. I was back in Japan years later on Midway (CV 41) when we deployed to the Indian Ocean and then back again when Midway got underway set sail for Operations Desert Shield and Desert Storm. The faces and places the author presents are among my most cherished memories of naval life.
There is one minor caveat I have. The Index, which I expect was done by a research assistant (or software program) rather than the author, omits a reference to Midway, although I counted seventeen citations including the marvelous inset highlighting Midway on page 85. Otherwise, the book does what it sets out to do in commendable fashion: making knowledge of the Seventh Fleet available to a wide and hopefully more appreciative readership.

After over 15 years on active duty, Murphey has retired to the Pacific Northwest.