McCaffery
Shipmates Association stopped by the Naval Historical Foundation to donate a set of her cruise books to the
Navy Department Library
. Don Turk ('69-'71) and Doug Hackett ('61-'63), two former sailors who served on USS
McCaffrey
(DD/DDE 860), take great pride in their time aboard the Cold War-era destroyer. Captain Todd Creekman, USN (Ret.), NHF Executive Director, helped facilitate the donation with the library. With over 150,000 individual volumes, the Navy Department Library houses the nation's largest collection of literature on the United States Navy.
The Association's donation will add to the Navy Department Library's already impressive assemblage of cruise books. "These will double the collection of USS McCaffery cruise books in the collection," Turk said. "It's our small part in helping to preserve the history of a proud ship that served our country during four decades."
Like many others of its kind, the USS McCaffery Shipmates Association continues to work hard to build on the individual history of naval ships in the timeline of the United States Navy's illustrious and ever-changing history. Turk and Hackett also presented the Library with a complete history of the ship from 1945 to 1973. The author, fellow shipmate Bill Maslak ('46-'47), spent countless hours researching every aspect of the ship at the National Archives. Turk called a true "labor of love for the ship and his shipmates."
USS McCaffrey, also known as "Big Mac," served during the Korean War, Cuban Missile Crisis, and Vietnam. The ship was scrapped in 1974.
——————————————————————————
The Cruise Book Princess: A BZ Long Overdue
The success of the cruise book collection is due in large part to Tonya Montgomery, Technical Information Specialist for the Navy Department Library.  Tonya has been cataloging virtually all of the over 6,000 ship cruise books at the library over the last fifteen years. According to Navy Department Library Director Glenn Helm, "cataloging is her favorite part of working at the Navy Department Library." Although her official title is Technical Information Specialist, most coworkers call her by a different name. Ms. Montgomery had much to say about her involvement with the cruise book donation process and her "unofficial" title:
"I have been called the Cruise Book Princess, a title that I am proud of. I refer to the cruise books as 'my babies.'  I particularly like seeing the photos of the Crossing of the Line ceremony as it has changed over time."
Ms. Montgomery explained the level of detail required to catalog each book, down to organizing each record by cruise, ship, and year. This becomes a necessity for organization, as each U.S. Navy ship normally produces a cruise book for each one taken. For this kind of meticulous record keeping, the more information is always better. Her work allows researchers from around the globe to search for specific information about a particular cruise or individual sailor during a deployment.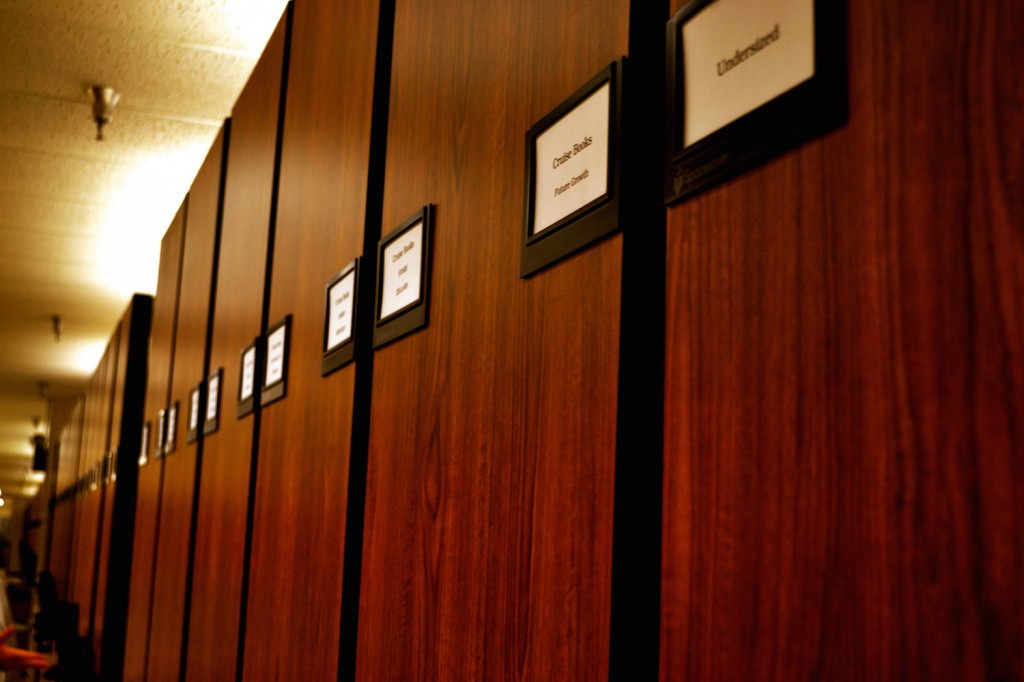 "I'm good at my job," she said, completely confident in her statement. Looking around at the impressive collection of cruise books neatly cataloged shelved inside the library, there is little room to argue with her.

Do you have a cruise book from a deployment you would like to see donated to the Navy Department Library? Contact Captain Todd Creekman, USN (Ret.), NHF Executive Director, at ccreekman@navyhistory.org or by calling our main number at (202) 678-4333 ext. 1.

Last Thursday, members of the USS