Last week, we published a short story on the experiences of our 2014 summertime interns. The post served as a starting point to a series of articles highlighting internships at the Naval Historical Foundation and our friends at the Naval History and Heritage Command and their museum institutions around the country.
Everyone needs a good mentor in his or her life. Plato had Socrates. Bob Dylan had Woody Guthrie. Even Harry Potter sought the guidance of Professor Dumbledore from time to time. In the world of naval history, interns at the National Museum of the United States Navy have Dr. Ed Furgol.
Dr. Ed Furgol knows a thing or two about internships. He has seen countless young minds come and go at the National Museum of the United States Navy over the last twenty-seven years. Longevity aside, Dr. Furgol is a constant figure in the changing landscape of the United States Navy's museum system. Furgol serves as the NMUSN intern coordinator on top of his duties as the institution's head curator. According to Furgol, the museum offers a "high impact experiential learning experience" for its interns. He uses concepts and themes from naval history and applies them to each intern's specific interests. With so many coming and going each year, that is no easy task.
I had a chance to converse with Ed last week about his career working and shaping the young minds of interns today. My own experience working with summertime interns pales in comparison to the program at NMUSN. There is little illusion to the realities of a museum internship. It's hard work. Furgol made it clear that the NMUSN internship consistently tests interns with the meticulous and under-appreciated work done at museums. As a former intern within the NHHC museum system myself, I can attest to this. The NMUSN internship keeps current and competitive with other intern programs around the area and country with a sharp focus on curatorial and educational methods. "The program perfectly fulfills the mission of educating people about the US Navy. It also provides an educational program for those in tertiary education," added Furgol.
Such success is measured in numbers. Over the course of his nearly three-decade career as NMUSN Curator and internship coordinator, Furgol has seen over a thousand interns come through his door. That's a lot of people to account for! There have been nearly fifty NHHC/NMUSN interns since December 2013 alone. Despite this, Furgol maintains a working relationship with many of them through social media. Interns past and present can join a Facebook group to see updates on the museum and job postings that will help them land a job. It is refreshing to see social media utilized for its original intended purpose. Ed also regularly produces a newsletter to let other former interns know what projects and history subjects are currently being researched.
[pullquote]
"I am interested in how the Navy functions: it's power is as much symbolic and ceremonial as it is combative. Nothing else in history deters by presence alone as much as a navy can, which is very interesting to me." – NMUSN '14 Intern Andreea Mihut
[/pullquote]
Winter/Spring 2011 intern Sarah Adler discussed Dr. Furgol's willingness to be flexible when he assigned research tasks to a constantly changing and diverse group of young men and women. "Ed was great," she said. "He was really good at assigning projects to individuals who were up for a challenge. He even gave me a chance to research my favorite topic, the Trent Affair."
Former NMUSN intern Zachary S. Kopin, Director of Programming and Outreach at the Nuclear Studies Institute, had this to say about his beneficial experience here at the museum:
"Besides giving me my first published work, it has given me invaluable experience working with others, preparing research for professional scrutiny and a professional confidence to trust my research and put it out there in a way many of my undergraduate classmates do not."
Some interns chose to stay within the NHHC/NMUSN enterprise. According to Furgol, there are three permanent staff members at NMUSN that began their careers as NMUSN interns: Laura Hockensmith (Director of Education), Jennifer Marland (Assistant Curator), and Gloria Anderson (Exhibit Designer). Other interns find work at the Naval History and Heritage Command, across the country, and around the world.
I also had a chance to chat with current 2014 NMUSN summer interns last week about their experiences working in naval history. I was pleased to find that their interest in coming to study and work at the Washington Navy Yard was incredibly diverse. Their specific history subject interest ranges in everything from literary and ancient history to the Holocaust and the Enlightenment. Their insight is both profound and unique to their own experiences in education and history. While some were interested in naval history's connection to culture and society, others, like Oxford University English graduate student Andreea Mihut, dug deep into the specifics of their interest:
"I am interested in how the Navy functions: it's power is as much symbolic and ceremonial as it is combative. Nothing else in history deters by presence alone as much as a navy can, which is very interesting to me."
I asked each of the NMUSN curatorial interns this year the same question: "How do you suggest we make history more engaging?" It's an important question, especially today. If museums are to continue to progress and expand in the future, the suggestions and ideas of the young minds of today are an essentially stepping stone. Here are their answers.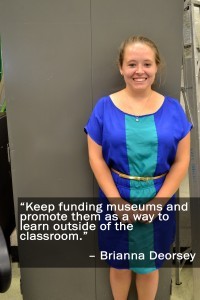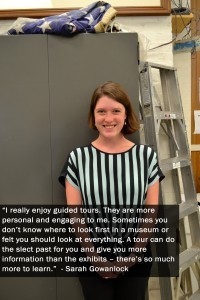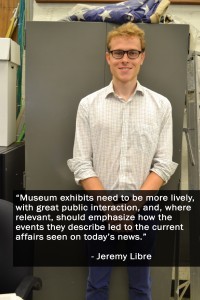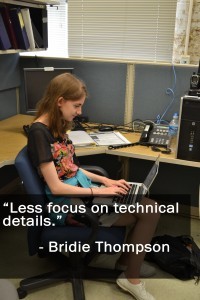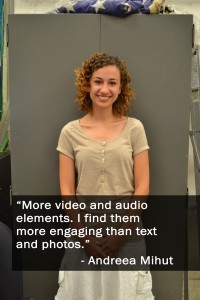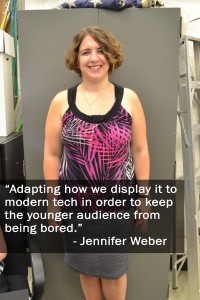 I see a little of myself in each of them, remembering my own intern days. I also began as an intern for a NHHC museum, the Hampton Roads Naval Museum, back in 2006. Need more proof? Here is a picture of me at age 22 with my fellow interns. I still wear that first museum shirt with pride; a badge of honor to my time interning for the Navy and soaking up the base of knowledge that would become my career in history. For that, I have everything to thank the Naval History and Heritage Command and museums like the National Museum of the United States Navy and Hampton Roads Naval Museum for giving me the opportunity to pursue my dreams.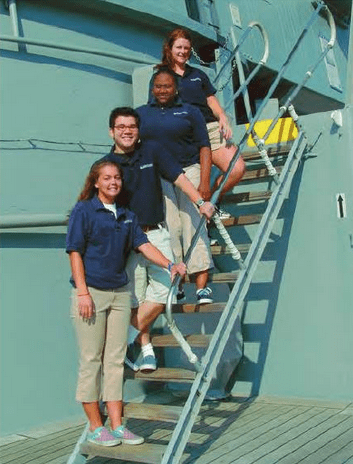 Do you have a story you would like to tell about your internship at NMUSN, NHHC, or NHF?  Post in the comment section below or email Matthew Eng at meng@navyhistory.org.