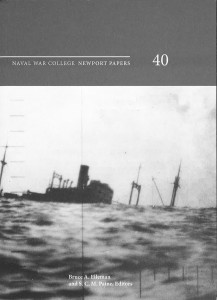 Edited by Bruce A. Elleman and S. C. M. Paine, Naval War College Press, Newport, RI (2013)
Reviewed by Joseph James Ahern
Authors Bruce A. Elleman and S. C. M. Paine have gathered sixteen case studies examining the use and development of guerre de course from the eighteenth to twenty-first centuries in the recent addition to the Naval War College Newport Papers. This study is notable in its scope and focus. It includes the well-known historical cases (Seven Years War, American Revolution, and both World Wars) and lesser-known conflicts (First Sino-Japanese War, and the Spanish Civil War), as well as conflicts that would not usually come to mind (Tanker War in the 1980s). In focus, Commerce Raiding looks at the naval use of commerce raiding, limiting the topic of privateers to a passing mention. While scholars have examined commerce raiding in its social, political, and naval context, this study looks to fill a major gap in the academic literature by focusing on its use in both major and minor military conflicts. As the editors note, "This volume will focus on how and why guerre de course strategies have been adopted and conducted both in non-war and in wartime conflicts."
In the compilation of this study, the editors have gathered an impressive list of authors to focus on specific periods or topics, including such names as Christopher P. Magra (American Revolution), Kevin D. McCranie (War of 1812), Spencer C. Tucker (American Civil War), Paul G. Halpren (World War I German submarine operations), Kenneth J. Hagan and Michael T. McMaster (World War I Anglo-American Naval Checkmate), Willard C. Frank, Jr. (Spanish Civil War), and George K. Walker (Iran-Iraq Tanker War 1980-1988). Each article is well written and authoritative on its related topic. The conclusion, written by Elleman and Paine, examines the case studies as a whole to determine the overall effectiveness of commerce raiding campaigns that had noticeably different levels of success depending on goals, strategy, technology, and location. For instance, while the French were unsuccessful in their campaign against the British in the Seven Years War, the American Colonies were able to use their efforts as part of the overall war effort to win independence against the Royal Navy. Equally, Germany's Navy was unable to use unrestricted submarine warfare to force the capitulation of the British in both World Wars, whereas as the United States Navy's unrestricted submarine campaign against the Japanese made a significant contribution to victory in World War II. Here, the issue of intervention by a neutral third party played a role.
For Germany, their campaign brought the neutral United States into the war on the side of the British. By contrast, there was no neutral third party nation to worry about in the Pacific. The most interesting chapters focus on the lesser-known uses of commerce raiding (i.e. Japan's turn of the century wars, and the Spanish Civil War) and the evolution of commerce raiding in the late twentieth and early twenty-first centuries in the Middle East and Somalia.
In all, Commerce Raiding takes a fresh look at this topic in naval history, and is a valuable addition to any bookshelf, regardless if the reader is interested in the broader topic or its specific case studies. As a whole, the work shows how in over two hundred years commerce raiding has had its own strategic, technological, and diplomatic evolution. This book will hopefully spur new studies on the topic in each specific period.

Joseph James Ahern is an archivist at the University of Pennsylvania who has published a book on the history of the Philadelphia Navy Shipyard.