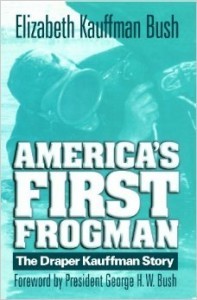 By Elizabeth Kauffman Bush, Naval Institute Press, Annapolis, MD (2004)
Reviewed by Stephen Phillips
There is a World War II American serviceman who fits the description of being the "right man at the right time." Although he wanted to serve in the U.S. Navy, he was denied a commission in 1933 due to poor eyesight. Yet, before the war's end, he wore the uniform of three nations and fought in the European and Pacific theaters. He was in a German prison camp in the early weeks of the war. In its last hours, he led reconnaissance of Tokyo Bay before USS Missouri arrived to accept the Japanese surrender. France awarded him the French Croix de Guerre. He garnered two Navy Crosses — the second highest decoration a sailor can receive. Despite this nearly unequaled combat record, this naval officer is recognized more today for the legacy he left behind in establishing schools, for forming a specialized military curriculum.
This man's name is Draper Kauffman. In 1979, the U.S. Naval Institute recorded his oral history. A more accessible chronicle of his life can be found in America's First Frogman: The Draper Kauffman Story, by Elizabeth Kauffman Bush.
Draper Kauffman was a member of the U.S. Naval Academy Class of 1933. During the Depression, the services did not commission all academy graduates. A pre-commissioning physical was the first filter. Kauffman barely passed the eye exam required to join the Navy, so he was certain he would be disqualified from service for the same reason. Kauffman instead joined U.S. Lines, a merchant shipping company. Posted in Europe, he recognized that war would return to the continent. Wanting to do his bit, and doubting American involvement, Kauffman joined the American Volunteer Ambulance Corps. He arrived in France just as Germany invaded and was captured four days after Paris fell.
Since he was an American non-combatant, the Germans released Kauffman. He departed for England, joined the Royal Navy Volunteer Reserve (RNVR) and shortly thereafter volunteered yet again for the new and clearly dangerous job of bomb disposal. Some of the bombs Germany dropped on the UK were duds, while others had delayed action fuses. The Brits developed the means to render these weapons safe, pioneering the field that is today known as explosive ordnance disposal (EOD).
Home on leave when Japan bombed Pearl Harbor, Kauffman's skills and experience were now invaluable, poor eyesight aside. The RNVR released him and Kauffman received a commission in the U.S. Navy. His first mission was to fly to the Territory of Hawaii to disarm a Japanese bomb sitting next to a magazine at Fort Schofield. He rendered the weapon safe, disassembled it, and shipped it to Washington, DC for his second mission: establishing a school for mine and bomb disposal. This is the direct precursor of today's Naval School Explosive Ordnance Disposal or "EOD School." When planners identified the need to destroy mines and obstacles in the littoral prior to amphibious landings, Kauffman was asked if he could establish a second school – one that taught its students demolition rather than disarmament. At Fort Pierce, Florida, Kauffman formed the first Naval Combat Demolition Units. This name was soon changed to Underwater Demolition Teams or "UDT." Kauffman would go onto command UDT 5 during the invasions of Saipan and Tinian. He led multiple UDT thereafter, a proverbial commodore of demolitioneers. The UDT of course, were the predecessors of Naval Special Warfare, more commonly known as "SEALs."
The man who was not physically suitable for commission in 1933 went on to be the founding father of EOD and SEALs.
In America's First Frogman, Elizabeth Kauffman Bush shares her brother's personal and professional life with a level of detail only possible in an autobiography or work written by a family member. Still, it is very clear that she consulted the Naval Institute archival records to review RADM Kauffman's oral history. As a result, the bulk of the narrative focuses on Kauffman's career, especially during the Second World War. However, there are interesting anecdotes that provide a deeper insight into the man.
Readers will come away with a sense that Kauffman's actions were heroic, making the right man at the right time. He forged a legacy that endures today through our Navy's heartiest warriors. Anyone interested in naval special warfare or special operations, naval history, or stories of inspirational leadership need look no further than America's First Frogman.

Stephen Phillips served in the U.S. Navy as a Special Operations Officer and Explosive Ordnance Disposal (EOD) Technician. The Military Writers Society of America recognized his debut novel, Proximity: A Novel of the Navy's Elite Bomb Squad, with a gold medal.