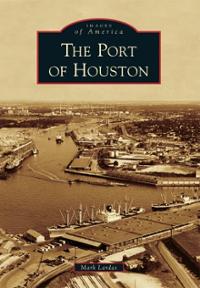 By Mark Lardas, Arcadia Publishing, Mt. Pleasant, SC (2013)
Reviewed by Terry Miller
Mark Lardas takes the reader through the history of the Port of Houston from its earliest days in the new Republic of Texas in 1836 to the present day. The 128-page book is more than half filled with photos, which adds to his well-written narrative. Anyone who really knows Houston appreciates the importance of the Port and its economic impact on the city and area. Published by Arcadia Publishing as a part of their Images of America series, the book helps fill gaps in the knowledge of long-time Houstonians who think they know their city, but may not know the Port or its history.
Lardas utilizes many B&W photos and data from various archives including the University of Houston, U.S. Army Corps of Engineers, Port of Houston Authority, and several published books and accounts to create his clear and concise account. The one thing the book lacks is a map of the Houston Ship Channel and its environs. There is a half-page image of a map from the 1950s, but it is too small to follow along with the locations specified in the text. 21
The value of the photographs alone is nearly inestimable. They help tell the story of the beginning of an idea, the daring of two land-speculator brothers from New York City, and the impact of the Civil War and "King Cotton." The Port always trailed the Port of Galveston in importance until the hurricane of 1900 devastated Galveston, pushing Houston to prominence. Then the discovery of oil in Texas and the need to shave off the additional 50 miles of rail costs from shipments to port led to the development of the Port of Houston as a petroleum and petrochemical mecca for the nation.
Lardas details how today's Port of Houston operates and discusses its probable continued growth in the future, while at the same time providing an interesting look into Southeast Texas history. I highly recommend this book highly to anyone who lives in the Texas Gulf Coast or has an interest in the history of the State of Texas or in American ports and shipping.