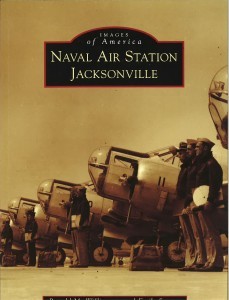 By Ronald M.Williamson and Emily Savoca, Arcadia Publishing, Mt. Pleasant, SC, (2013).
Reviewed By: Rodney Carlisle, Ph. D.
This short photographic collection is one of more than 8,000 volumes produced by Arcadia Publishing in its "Images of America" series on a wide variety of towns, forts, historic places, and locales scattered across the United States. Like most volumes in the series, Naval Air Station Jacksonville contains a very short Introduction (in this case, about 3,000 words), followed by 208 black and white photographs, mostly U.S. Navy photos from local archives.
Although by the standard of most historical works, the "Images of America" volumes are light in text, they do convey a massive amount of historical information through the carefully-selected images and the deep captions, each running as long as 100 to 120 or more words. With the photos and captions, this volume succeeds in conveying the story of the physical appearance of the Jacksonville Naval Air Station, from its predecessor, Camp Johnson and Camp Foster, to its modern role as a base for special project reconnaissance squadrons and Helicopter Squadron Marine (HSM) units, as well as other small contemporary naval air units.
Originally, the base conducted basic aircraft training and seaplane training. Over the decades, it evolved into a training facility for pilots in almost every type of aircraft flown by the Navy. Naval Air Station Jacksonville ("Jax" to its friends and neighbors), now houses some 15 aviation squadrons, about 115 tenant commands, and a total of approximately 20,000 military, civilian, and contractor employees.
Through the selection of archival photos and the detailed captions, the reader gets an impressionistic view of training methods and training venues, recreation, generations of equipment, recovery and repair work on nearby crashed aircraft, and notable ceremonies at the Air Station. The volume will serve as a keepsake for Jax veterans; it will also be of interest to aircraft history buffs and students of Naval Aircraft history, as well as readers interested in local history of the Jacksonville, Florida, area.
Given the approach of Arcadia Publishing in this massive local history series, the work is not intended to explore deeper issues of aircraft evolution, technological development, naval organization and facilities management, race and gender relations in the military, or the difficulties of transition from peace to war and back to peace, which characterize all U.S. military facilities. Even so, individual photographs within this work touch on all these areas and could readily serve to help illustrate studies of such topics.

Dr. Carlisle is Professor Emeritus, Rutgers University; Vice President Emeritus, History Associates Incorporated