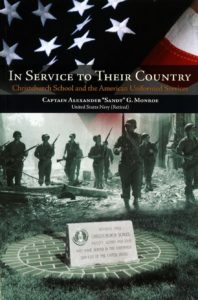 By Captain Alexander "Sandy" G. Monroe, USN (Ret.), Pleasant Living Books, Richmond, VA (2014)
Reviewed by John R. Satterfield, DBA
This commemorative volume focuses on graduates of a small private school who served in the U.S. armed forces.  Author Alexander Monroe argues that Christchurch School has imbued its students with an outlook that mirrors military values – duty, integrity, discipline and respect for order and tradition. These values led many of its alumni into uniformed service. Early chapters discuss the various wars the school's graduates have fought in, from World War II to Iraq and Afghanistan. Emphasis is placed on military history and the roles of alumni in those conflicts. Most of the book, however, is a compendium of alumni reflections on the role their secondary school experiences had in shaping their subsequent lives and career choices, with emphasis on their military service.
Monroe correctly assumes his book will interest few readers not affiliated with Christchurch School. This may be why there is comparatively little background about the school itself in the narrative. He assumes readers know that story. For those unfamiliar with Christchurch, the Episcopal Diocese of Virginia founded the school in 1921 with just ten boarding students on a small campus beside the Rappahannock River estuary near the Chesapeake Bay in rural Virginia. It graduated only approximately six students each year during the Great Depression when boarding school tuition was not a high priority for most American families.  Even today, the school enrolls fewer than 250 students in grades 9 through 12.  Christchurch became co-ed in the early 1970s, but fewer than 30 percent of its students are females.  Tuition and fees for boarding students rival those of highly ranked U.S. colleges and universities, making Christchurch a very exclusive school.
Even these few facts raise questions about Monroe's premise that the school has a direct impact on its graduates' selection of military service or careers. This calls into question the book's historical perspective.  Drawing any conclusions about unique characteristics or relationships with the military from a small number of anecdotal responses to qualitative and subjective survey questions is of course a difficult enterprise.  Military service apparently was a requirement for survey respondents, and there are no comparative assessments from alumni who pursued civilian careers.
An appendix contains the names of 302 Christchurch grads listed by class in chronological order through 2007, as well as thirty faculty and staff veterans.  Of these, Monroe named six alumni killed in World War II, although only four of them are designated KIA in the appendix. Given the school's small graduating classes in the 1920s and 1930s, there is a high percentage of students that served during World War II. This does not necessarily make Christchurch unique. The war was an unprecedented emergency, and the U.S. anticipated involvement by reimplementing the draft in 1940, the first peacetime conscription in American history. Ultimately, all males between eighteen and forty-five could be called up for the duration plus six months, and about ten percent of the U.S. population was in uniform during the war.  Not surprisingly, the largest number of service members, fifteen, graduated in 1942. Graduates in the armed forces from the late 1930s to the mid-1940s were higher than average.
After the war, the terms changed, but the draft remained in force until the creation of the all-volunteer armed forces in 1973 after the U.S. withdrawal from Vietnam. Again, it's no surprise that military participation rates dropped significantly during the social revolution of the 1960s and beyond. In fact, many Christchurch classes in the 1980s and 1990s had no military members at all, and most others had just one or two.  This has dropped the average military participation rate since the school's founding to about 3.5 students per year. Removing the classes serving in World War II drops the average to 2.6, hardly a remarkable number. The Development Office estimates that Christchurch has graduated about 3400 students since its founding, so military veterans constitute just below nine percent of the total. This rate is probably higher than average among private schools, but makes sense given the small number of graduates throughout the 1930s and 1940s. The school has kept no statistics on service, and Captain Monroe compiled his information independently, to his credit.
This review in no way detracts from the exceptional service of Christchurch graduates, including the book's author, who have given so much to their country.  Alumni have received at least 40 decorations for gallantry, including the Navy Cross, Distinguished Service Medal, and Silver Star, as well as numerous commendations for superior individual and unit achievements.  Many of these men and women pursued distinguished military careers, and those who did not often enjoyed successful civilian pursuits.  In addition to the author, flag and senior naval officers from Christchurch include VAdm John W. Craine, Jr., who wrote the book's foreword, Capts. Frederic D. Riley, William C. Robards, William A. Schroeder, Robert A. Shriver, Cody J. Tinsley, and William D. Young (a Navy Cross recipient), and Marine Cols. James T. Breckinridge and William H. Dabney (also a Navy Cross recipient). Among Christchurch's other notable graduates are author and Pulitzer Prize winner William Styron, New York Times film critic Vincent Canby, and perhaps most poignantly, the son of the legendary Marine General Chesty Puller, Lewis B. Puller, Jr., who was horribly wounded and maimed while serving as a Marine lieutenant in Vietnam and took his own life after suffering from intense depression and physical pain for 27 years after he was wounded.
The real issue, however, is that commemoration, even richly deserved, is not necessarily history.

Dr. Satterfield teaches military history and served as a naval intelligence officer.