The theme of this year's expo was "The Sea Service: Forward. Mobile. Ready." Attendees experienced illuminating seminars and demonstrations that highlighted the latest maritime-related technologies and solutions. U.S. Navy Chief of Naval Operations Admiral Jonathan Greenert called this willingness to work together in today's pressurized budget environment as "pursuing interdependence." Greenert passionately expressed these issues and concerns during a conference dinner held on 8 April.  According to Greenert, "the relentless period of demand on naval forces" has forced the need for "services to adapt and to come together to get the most out of this period."  It is up to our Navy's leaders today to forge better avenues of conversation between industry and research and development centers. Historians take note.
One of the major discussion points driving this year's theme of forward mobility was the old adage, "doing more with less." This sentiment resonated in the CNO's speech at the 7 April service chief update panel and several other conference sessions. More than ever, the necessity to think smarter together is evident both ashore and afloat.  It isn't about what the Navy is planning to spend money on anymore. It is now what they are NOT going to allocate funding for in the outgoing years.
Much of this can be accomplished. One of the roundtable sessions I attended discussed the future projection of the "Navy's Next Generation IT." Panelists explored how the Navy-Marine Corps team plans to accomplish the business process of moving data and information both globally and responsibly. Navy Program Executive Officer for Enterprise Information Systems (PEO EIS) Victor Gavin explained the Navy's current efforts and struggle to modernize information technology.  According to Gavin, the Navy sends over 20 TB of information and 33 million emails a day.  He plans to implement a "cloud-like environment" to handle this data in the near future. This will allow higher capability through a slew of new and exciting applications many of the private industries present could deliver. Any professional knowledgeable of current trends in IT knows this project is both logistically and technologically ambitious. But it is not far out of reach.
Other panelists in the session shifted focus from grand ambition to smart practicality in military tactics. Marine Corps Brigadier General Kevin J. Nally, Deputy Chief Information Officer, offered up some new tactical innovations the Marine Corps will likely utilize globally.  He mentioned giving Marines smart tablets to go over and assess target areas while in transit aboard helicopters and Ospreys.  This, he assured, "will increase situational awareness." Technology used to make our lives easier is entirely different when its influence can be utilized to save the lives of our warriors fighting overseas.
How can the military achieve this seamless stream of communication?  BGen Nally echoed the need to once again do more with less.  "You have to be smart," he said, "and make the best of a difficult situation." Thankfully, technology continues to drive the necessity to be more productive.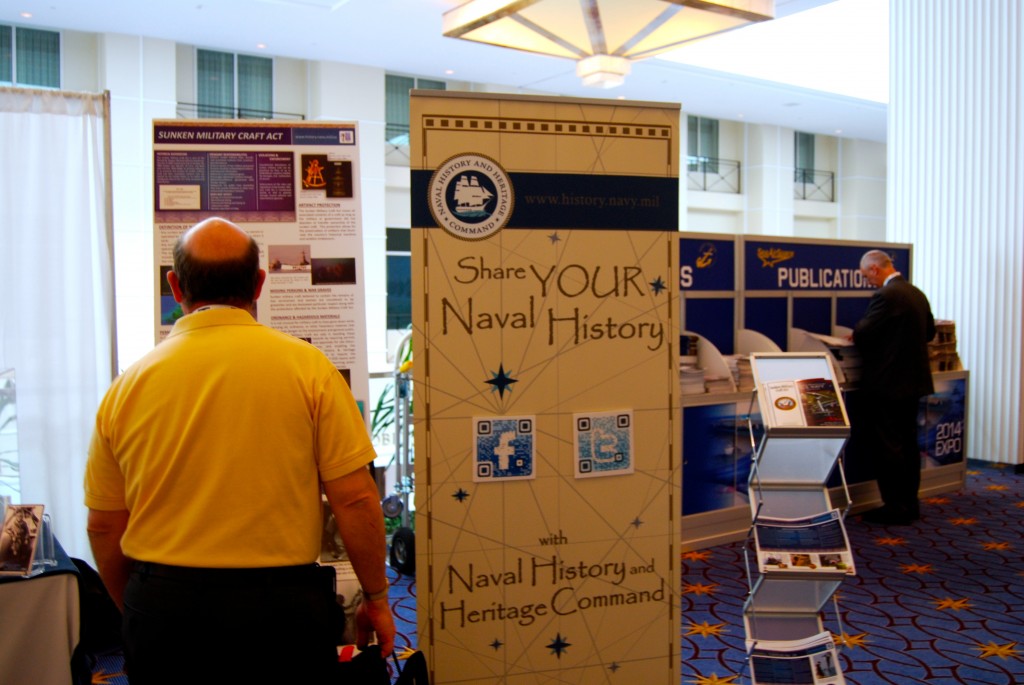 NHHC Exhibit Display: D-Day at 70
There was plenty of information about the future at Sea-Air-Space 2014.  Some chose, however, to look the future by examining the past.
Our friends in the Communications and Outreach Division (COD) of the Naval History and Heritage Command rolled out an impressive new display in honor of the event. The event was the perfect opportunity to debut the new exhibit, less than two months after the new command logo was unveiled to the general public.
The division's new exhibit, titled "D-Day at 70: A History in Forward. Mobile. Ready," showcased how the Navy uses the latest technology to conserve artifacts for future generations. The exhibit displayed exhibit artifact and information from the Collections Management and Archives divisions of the National Museum of the United States Navy, which included video footage of sunken craft off Normandy, sand from Omaha Beach, and the first Navy flag flown after D-Day. The command also included some artifacts and information from the First World War, including an aviator's flight helmet and Medal of Honor placard. Members of the COD team and other NHHC historians, curators, and underwater archaeologists were on hand throughout the three-day event.
According to Paul Lachance of NHHC outreach, the visioning for the SAS exhibit project began in January. The effort and level of detail showed. The detail went so far as to incorporate the compass-like pattern of the Gaylord Hotel's floor into the design of their displays.  Annalisa Underwood, one of the newest members of the COD outreach team, was one of the individuals behind the new design. "We wanted to incorporate the new logo and create a central theme around it," Underwood said. She added, "It's nice to give visitors a place they can go to see what we can't physically bring to them." Keeping a record of their exploits on their active social media presence.
Underwood was surprised at the different types of conference guests that came to the booth. Many attendees were genuinely "excited about naval history."  Some had fathers who served. Others recently finished their service and now work in industry. She added how one particular individual stuck out in her mind:
"A gentleman came by this morning who had a son in the third grade.  The son had to do a report on a famous person. While most students in his class were picking people like Amelia Earhart, Jackie Robinson, etc., he decided to use John Paul Jones in his report. He was pulling resources from the command's website. It's really nice to see that kids at that age are interested in Naval History."
It always warms my heart to know that naval history is alive and well.  Special thanks to the men and women at NHHC who work hard to ensure our rich and proud naval history is preserved for future generations.

As I left the exhibit hall on Wednesday, I couldn't help but think about the Navy's other connections with Forward. Mobile. Ready.

Mark your calendar for next year's Navy League Sea-Air-Space Expo. It will be held from 13-15 April at the Gaylord National Resort and Convention Center in National Harbor, MD.

Thousands traveled to National Harbor, MD last week to attend the Navy League's Sea-Air-Space (SAS) Expo and Conference. This annual event brings the U.S. defense industry, private sector, and military experts together for three days of educational, professional, and networking events.