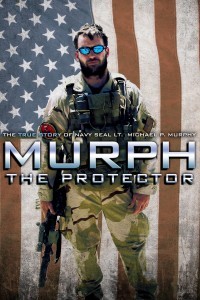 Murph:  The Protector:  The True Story Of Navy Seal Lt. Michael P. Murphy
Video produced by Scott Mactavish, Mactavish Pictures New York, NY. (2013).
Reviewed by Nathan Albright
It is altogether fitting that Murph: The Protector should be seen in tandem with the big-budget film Lone Survivor. Murph is based on the book by Lt. Marcus Littrell, one of Murphy's fellow team-members responsible for bringing the final moments of Murphy's life so vividly into view.  While Lone Survivor provides a spectacle of bravery in warfare, this particular film is a more modest but deeply moving documentary that provides context and a memoir of a brave man whose death was cut from the same cloth as his life.
This documentary begins by discussing an incident in Michael's childhood where he stood up for a boy with learning disabilities who was being bullied, which resulted in a fight.  This story (and many others like it), along with the many pictures, video clips, interview clips, and moving score are lovingly stitched together in this film.   It is an effort to understand a life and place it in its context and also give it a sense of meaning.  The film goes in a generally chronological manner from early childhood (showing a love of swimming foreshadowing his career as a Navy SEAL) up through his general team player attitude shown time and time again. They also discuss how his partying (part of his love of camaraderie) and willingness to break rules but his acceptance of consequences help form the picture of a serious-minded man with a deep sense of self-sacrifice and patriotism and loyalty.
Any time there are stories that reflect somewhat poorly on Michael's maturity, like his love of partying as a young man or his trip to Penn State in the bed of a pickup truck, there is a bit of a reluctance for people to tell the story, lest they tarnish the image of bravery and moral rectitude that this movie's subject possesses.  It is telling and unfortunate that there are no interviews in this film from his fiancée Heather, who was to marry Murph in November 2005.  The movie does mention their love and how long Murph cared for her. Her absence from the film does leave a bit of a hole when it comes to explaining how they got together and engaged, and how Heather coped with the loss of her heroic husband-to-be.
This film spends a substantial amount of time in showing the humanity and graciousness of President George W. Bush, an aspect of his character that has not received particular notice in many film portrayals. They also spend a lot of time looking at the aftermath of Murphy's death.  The interview the film has with the young man who was the first student to receive a memorial scholarship in Murphy's honor provides an interesting parallel between their shared well-roundedness and desire to help others.
This film will tug at the heartstrings of many of its viewers with its honest-to-goodness patriotism and sorrow from weeping friends and relatives of the fallen Sailor at its core.  It provides an example of how the life of a fallen Sailor can be best remembered in the hints and contexts that lead people to put their lives at stake for the sake of defending their country, ultimately paying the price for their loyalty.  In remembering heroism abroad, we cannot forget the cost that is suffered back home when soldiers fail to return again, either whole or in peace.  It is a useful reminder, lest we glorify war too much, or remember its heroes too little.
Albright is a frequent contributor to NHBR and resides in Portland, OR.