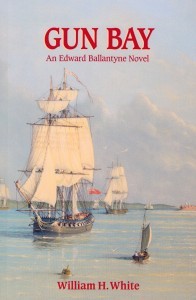 Gun Bay: A Tale of Shipwreck on Grand Cayman — An Edward Ballantyne Novel
By William H. White, Sea Fiction Press, Red Bank, NJ. (2013)
Reviewed by Capt. Roger Jones, USN (Ret.)
Gun Bay is a sea-going novel that incorporates the historic and powerful Caribbean hurricanes of October 1793 and January 1794. These caused significant and cumulative damage to Grand Cayman Island, as well as the unhappy landfall of an English naval squadron caught in the second hurricane's path.
The prologue describes the onslaught of the hurricane upon the island and its inhabitants in the form of a "fictionalized history." The next fifteen chapters are similar, as seen through the eyes of the protagonist, Royal Navy junior officer Edward Ballantyne. We first meet our hero in England on his way to join the HMS Europa on a voyage to America. The Europa sails from England to the Bay of Biscayne to join a squadron when they are struck by a hurricane. This is a bit of hyperbole perhaps; as such storms are relatively uncommon in these waters. Ballantyne learns first-hand about the awesome and destructive power of such a storm, foreshadowing what was to come on the other side of the Atlantic Ocean. While in Jamaica over a month later, Ballantyne transferred to the HMS Penelope. Soon afterwards, the Penelope encounters an enemy French warship L'Inconstante off the coast of Hispaniola (Santo Domingo). A grim and bloody battle takes place but the Penelope prevails and Ballantyne survives another test of his skills and courage.
Next, the reader gets a glimpse of eighteenth century life in the New World, which includes parties and a duel of honor between two English naval officers. The latter event results in the deaths of both combatants. Ballantyne, the senior "second" present, is held accountable by his captain for failing to stop the participants. Consequently, he is transferred to another ship, the HMS Convert (ironically, it is the former L'Inconstante, now refurbished), and has the good fortune to find himself serving under the Penelope's previous captain, Lawford, who holds a high opinion of Ballantyne.  The Convert is named the flagship of a convoy of about fifty commercial vessels heading back to England.  However, they are short-handed and must find enough unattached seamen "on the beach" to fill their roster.  This took nearly a month, but the convoy finally gets underway to Cuba where they are joined by another English warship for the balance of the voyage to England.  Alas, the convoy is struck by a particularly strong hurricane, and the Convert and nine merchantmen are driven onto the reef of Gun Bay (at the eastern end of Grand Cayman Island).  The epilogue tells how the captain and his subordinates are tried by a Royal Navy court-martial – and acquitted, a rare outcome for the time period!
The author accomplished a difficult endeavor by making an interesting and entertaining novel out of an historic event that transpired over two hundred years ago.  The reviewer enjoyed reading this book and recommends it.
Jones has been a frequent contributor to Naval History Book Reviews.